How Much Money I Made From Stock Photography in 2022?
At last, I've finished calculating all my income from stock photography in 2022. A bit late but better late than never, right?
I had a pretty successful year in 2022. My stock photography income totaled $10,309 for the year, with sales from all major stock photography websites. This is a whopping 56% higher than my 2021 income of $6,600.
The biggest thanks go to Adobe Stock, which, again, showed huge growth, particularly from August onwards. That was when I jumped along the ride of AI images using Midjourney and made a bunch of images that sold extremely well. I was even featured in Adobe Stock's "Recent Top Sellers" list back then. BTW… It doesn't mean being a top-earning contributor. It means being the top earner with newly uploaded images.
However, there was one non-AI image that started selling daily really well on AS, and that, which image it was, will be a secret knowledge… for now…
Also, I got my first sales on Arcangel in 2022 – It was really exciting when I got those first sales and started seeing that the particular style I've been doing is paying off. It's always a risk to put a lot of creative effort into a new stock portfolio which you cannot be sure it will pay off.
This has motivated me to really dive more into book cover photography and this year I'm aiming to bring that portfolio to the same level as my other portfolios.
Below you'll find a few charts to visually show my stock photography revenue in 2022.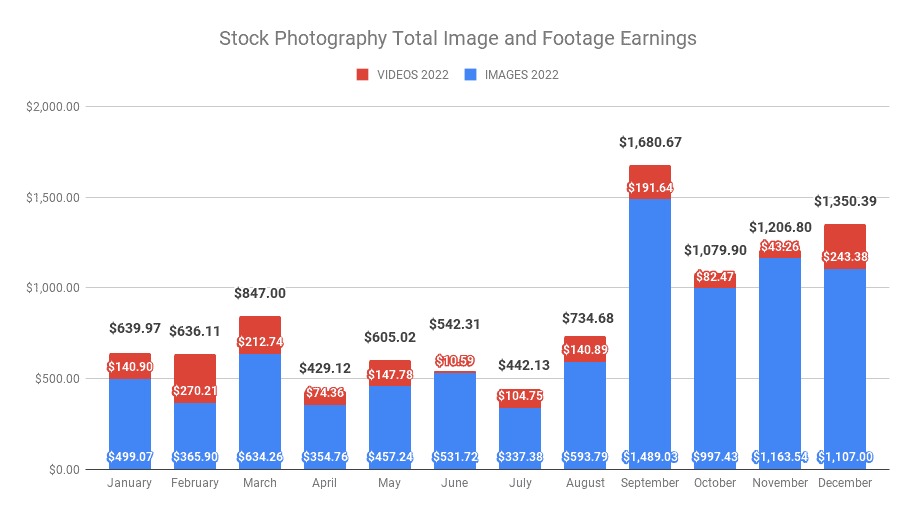 And here's my earnings development since 2017:
Other industry "highlights" in 2022 were:
The breakthrough of AI images: This is casting a shadow over the traditional stock media producers as this could have a significant impact on the income of stock photographers down the line.
Bankrupt of EyeEm: By the time writing this in 2023 it's now obvious EyeEm is bankrupt, but it was a heartbreaking event for thousands of stock photographers who used to make good money with EyeEm Marketplace. Now EyeEm owes a lot of money to many contributors, including me, and I don't believe that money will ever be fully paid back.
Pond5 acquired by Shutterstock: Some of the biggest shockers in 2022 was when Shutterstock bought Pond5. This has created a lot of uncertainty for many contributors and caused a lot of distress. And why is this so shocking.. well because Shutterstock is not the friendliest agency towards contributors. Everyone is now expecting a cut to contributor royalties. We'll see how this develops.
So that's about it, hopefully, this year will be even better. Let's see what the stock photography industry will bring in 2023! So far looking OK.
Thanks for reading!