How To Make Money On Shutterstock?
Selling stock media on Shutterstock is an attractive option for creative professionals such as photographers, videographers, and illustrators who are looking for a way to earn some passive income.
With millions of images and videos available, Shutterstock is one of the most popular stock photography sites in the world, but it can be challenging to make money here due to the highly competitive market.
With the competitive market of stock photography today, it can seem difficult to make money on the platform, but with a few strategies and tips, you can be successful.
Fortunately, I've been a Shutterstock contributor for years now, and I have learned a few tricks over those years on how to make money on Shutterstock.
In this post, I'll share with you ways to increase your chances of making money on Shutterstock
---
Related Posts:
---
What Is Shutterstock?
Shutterstock, widely known for stock photography, started as a small business and has quickly grown into a global brand. It's a marketplace where creative professionals can find various types of content like photos, videos, music, illustrations, and more for their projects. This diverse range of categories makes Shutterstock a valuable resource for marketers, designers, and creators.
But Shutterstock goes beyond being a media source. It also provides an opportunity for artists to monetize their craft. Artists can upload and license their content on the website, making it available for sale to customers worldwide.
Shutterstock's selling process is easy and straightforward. The contributor uploads and keywords the content and gets a royalty for each download. The platform operates under a tiered commission structure, which rewards artists who make in-demand content with higher earnings. This system encourages creators to consistently produce high-quality content.
Another significant benefit of selling on Shutterstock is the potential for passive income. Once media is uploaded and approved, it can continue to generate revenue without additional effort from the artist. This makes Shutterstock an attractive option for artists looking to create an extra income stream.
In essence, Shutterstock serves as a platform that connects creative talent with those in need of it, fostering a marketplace where creativity is rewarded.
Can You Really Make Money On Shutterstock?
In today's challenging market, you may be wondering if it is even possible to make money on Shutterstock anymore.
In my opinion, it is still possible to make a decent income from this platform if you're willing to invest time and effort into building a high-quality portfolio of stock images and videos.
Also, by investing time in learning about the technical aspects of photography and video production, understanding the different types of licenses available, and staying up-to-date with changing trends in stock media, it is possible to create content that will be profitable on Shutterstock.
In general, you can expect to make anywhere from €0.10 – €35.92 per image and €0.90 – €42.32 per video download. Those earnings have the potential to become hundreds of dollars a month if you are able to build up a large library of images and videos for sale on the platform.
As a contributor to Shutterstock, I can tell you that I make anywhere from $150 to $400 a month with my portfolio of 2600 images and videos. These earnings vary from month to month and between the seasons, but it is a nice passive income source for me.
So, with patience and dedication, it is still possible to make a good income on Shutterstock, but you must develop a mindset of a marathon runner instead of a sprinter to be successful.
Read more detailed information about Shutterstock payments in this blog post: How Much Does Shutterstock Pay for Contributors?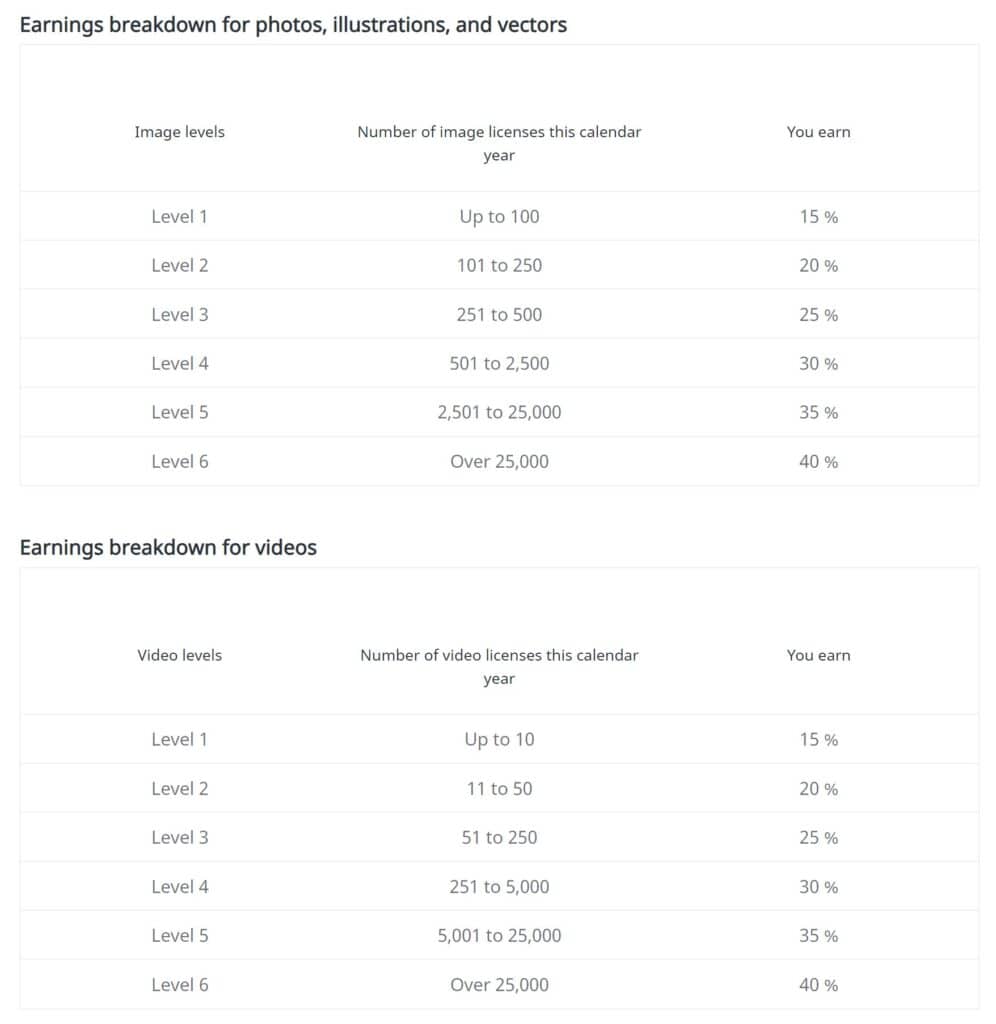 Tips For How To Sell On Shutterstock
Selling content on Shutterstock may be challenging, but it is not impossible. It takes a lot of dedication and hard work, but it's possible to make good passive income off Shutterstock if you stick with it.
Below are some tips I have found to be successful when selling stock images and videos on Shutterstock
Create Quality Content
Making money on Shutterstock is possible with quality content. To produce content that meets Buyers' standards, you'll need to take your time creating high-resolution images, videos, and illustrations that are well-composed and well-lit.
Shutterstock buyers expect top-quality content that stands out from the crowd, so make sure to take extra care in producing content that meets Shutterstock's high standards.
Build Up a High-Quality Portfolio Consistently
Building up a large portfolio of images and videos on Shutterstock is essential to making consistent income. By consistently adding new material to your Shutterstock portfolio, you can increase the likelihood that someone will purchase them.
The more content you have, the better. Aim to build up a quality library of thousands of images that showcase your creative abilities!
Uploading high-quality images with interesting subjects such as people doing things, city time-lapses, business, and technology will help you generate more sales.
Research Popular Trends
Shutterstock is a great platform to make money by selling stock photos. To maximize your earnings, it's important to research popular trends and stay one step ahead of the competition. This will help ensure that you create content that is in demand and, consequently, will be sold more frequently.
Keep an eye out for industry trends, seasonal changes in buying habits, and popular topics to ensure that you are producing content that Shutterstock buyers are looking for.
With a little bit of research and effort, you'll be better able to capitalize on popular trends and make more money from Shutterstock.
Use Relevant SEO-Friendly Keywords
When selling stock photos on Shutterstock, it is important to use relevant SEO-friendly keywords and add the most relevant ones also in the descriptions of your images. This will help potential customers find them more easily when searching for relevant photos on Shutterstock.
It is also important not to overload the descriptions with too many keywords or use irrelevant keywords, as this will not improve the visibility of your photos but could potentially damage your search rankings.
Shutterstock's algorithm is designed to reward content that is relevant and of high quality. Therefore, focus on creating unique, interesting content that contains the right keywords in order to maximize your chance of appearing in Shutterstock search results.
Also read this post to master your keywording: A Guide To Stock Photography Keywording And Keyword Research
Get Involved with Contributor Communities
Joining stock media contributor communities can help you learn more about the market, get tips from experienced contributors, and stay up-to-date on industry news.
These groups, forums, and newsletters are full of valuable information that can help you get started on Shutterstock, create better content, and learn how to make money selling stock photos in general.
They can also help give you ideas for creating new content that will stand out from the crowd! While Shutterstock provides a great platform to start selling your work, partaking in these conversations can give you an edge over the competition.
Here are a couple of forums you may want to check:
Upload More than Just Photos
Shutterstock is a great way to make money selling stock photos as well as illustrations, vectors, and videos. Shutterstock offers a platform to monetize your creative work, and you can potentially earn more money with popular items. So don't limit yourself to just photos; upload illustrations, vectors, and videos too!
Find Niches With Less Competition
If you're looking to make money on Shutterstock, it's important to find niches with less competition. This way, you can become an expert in that market and make more money selling stock photos.
Explore what Shutterstock's library has to offer; see which types of images already fill the collection and discover any gaps. You may be able to find a niche that's relatively untapped or low in quality and fill it with your content and make more money.
Once you've identified a promising niche, start creating images that meet Shutterstock's standards for quality and take advantage of the potential market. With a bit of research and effort, you can make Shutterstock a valuable source of income for yourself.
Does Shutterstock Accept AI-Generated Images?
With the recent boom of AI-generated content, many are looking for a place to sell AI images. So the question arises Does Shutterstock accept AI-Generated images?
No,  Shutterstock does not accept AI-generated images. All images must be created by hand and submitted by the original photographer/artist in order to meet Shutterstock's quality standards and be accepted into their library. If you are looking to create AI-generated content, there are other image libraries that may fit your needs.
Read this post to find out which stock media agencies accept AI-generated images: Where You Can Sell AI-Generated Stock Images?
Conclusion
In conclusion, making money on Shutterstock is a worthwhile pursuit for creative professionals looking to generate passive income.
While it may be challenging due to the competitive market, contributors can increase their chances of success by creating high-quality content that meets Buyers' standards; consistently adding new material; researching popular trends; using relevant SEO-friendly keywords in descriptions; joining contributor communities; uploading more than just photos (illustrations, vectors & videos); and exploring niches with less competition and capitalizing upon them by creating quality content.
With hard work and dedication, contributors can expect earnings ranging from €0.10 – €35.92 per image and €0.90 -€42.32 per video download, which have the potential to become hundreds of dollars a month or more depending on the quality of work and amount of downloads an individual receives.
Ultimately, with the right strategies in place and a commitment to providing high-quality content, contributors should be able to make money on Shutterstock with time and effort.