A Comprehensive Guide To How To Sell Stock Photos Online?
Welcome to a comprehensive guide on how to sell stock photos online!
This blog post is perfect for those who are looking for a way to monetize their photography, digital art, or graphic design skills.
This article will cover every aspect you need to know about selling stock images – from understanding different licenses, usage types, and releases, to figuring out the best platforms for selling your work.
I'll also discuss what kind of photos sell the most and give you an idea of how much you can potentially earn.
So whether you're a seasoned photographer or digital creator, this post is your guide to making money in the world of stock photography.
---
Related posts:
---
What is Stock Photography?
What exactly is stock photography?
In simple terms, it's a collection of images that are available for licensed use.
In other words, it is the practice of licensing images and videos online for commercial and editorial use.
It is a convenient solution for businesses that need high-quality images but don't have the time or resources to take them themselves.
One of the main benefits of stock photography is that it is a cost-effective solution for businesses.
Instead of spending time taking photos themselves, they can purchase high-quality images from stock photography sites at a fraction of the cost of hiring a professional photographer.
Stock photography also gives businesses access to a wide range of images and styles, allowing them to choose the perfect image for their needs.
For photographers, graphic designers, and digital artists, stock photography is an easy solution to monetize their work and make a passive side income.
Stock photography agencies like Shutterstock, IStock, and Adobe Stock allow these creators to upload their images and earn a royalty whenever their image is licensed for use.
Who Buys Stock Photos?
Stock photos are widely used by various individuals and businesses in different industries today.
They are purchased by bloggers, website owners, graphic designers, marketers, publishers, and other professionals who require high-quality images for their works.
These stock photos are often used to enhance the visual appeal of their websites, publications, social media posts, and advertisements without the need to hire a professional photographer or pay for expensive licensing fees.
Stock photos are an excellent solution for small businesses, startups, and non-profits that have limited budgets but still need quality images to market their products or services.
More about who buys stock photos and how they are used in these posts: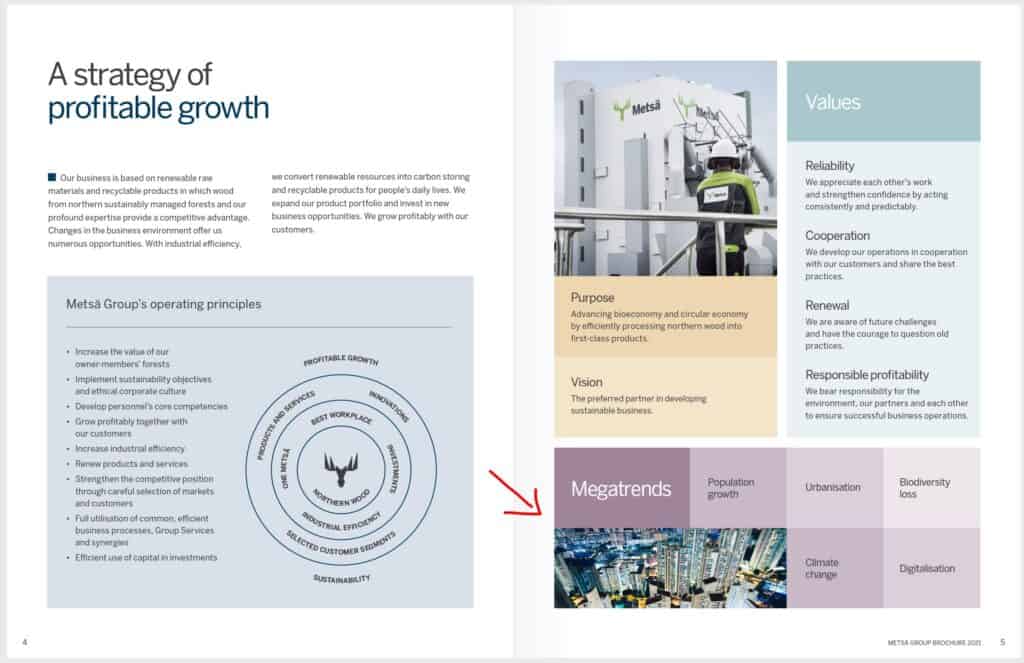 Understanding The Licenses in Stock Photography
When a buyer downloads an image, they are actually purchasing a license for that specific image, granting them permission to use it.
The photographers always retain the copyright and have the right to license the same image to other buyers, unless it has been exclusively licensed before.
The two most common types of licenses are royalty-free and rights-managed licenses.
Rights-Managed Licence
This type of license usually comes with a higher price tag and gives the buyer specific rights to use the image for a certain period, purpose, and geographic location.
If they wish to use the image beyond these terms, they may need to pay an additional fee.
Rights-managed licensing allows for more control over the use of the image and is often preferred by larger companies and publications.
However, stock photography has evolved, and so have the licensing options. These days, rights-managed licenses are not as widespread as before, as the more convenient royalty-free licenses have taken over the market.
More about rights-managed license here: What Does Rights-Managed (RM) License Mean?
Royalty-Free Licence
This is the most common type of license used in stock photography. It allows for unlimited use of an image by the buyer for one project, with no restrictions on time, purpose, or geographic location.
As suggested by its name, buyers pay a one-time fee to use the image and do not need to pay any additional fees. So, the license is not completely free.
Royalty-free license is often divided into standard and extended licenses.
Standard licenses are suitable for most uses such as social media, websites, and small print runs.
On the other hand, extended licenses are required for large print runs or merchandise.
More information about royalty-free license in this post: What Is a Royalty-Free License? Questions and Answers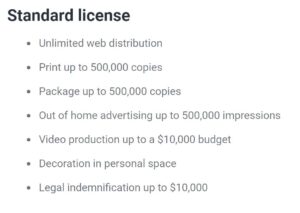 Editorial vs Commercial Use
Every time you submit an image for licensing you must choose if it's for commercial use or editorial use only.
Editorial Use
When it comes to editorial images, it means they are meant to support or illustrate articles, educational texts, or critiques.
For instance, news articles often include editorial images that relate to a specific event.
It's important to note that editorial images cannot be used for commercial purposes and should accurately represent the subject.
This means you can't get too creative with editing, like cloning elements to enhance the image.
However, basic adjustments for tones, colors, and contrast can still be applied to make the editorial photos look good.
If your image contains recognizable people or trademarks and you don't have releases, then those images can only be sold for editorial use.
Commercial Use
When it comes to commercial use, the buyer has the freedom to use the image for both editorial and promotional purposes.
This includes advertising, marketing materials, publication covers, and consumer products.
Ideally, you'd want your images to be sold for commercial use since the market for these images is much bigger than for editorial-only images.
However, it's important to note that commercial images should not include privately owned property, trademarks, or recognizable people without proper permission.
The photographer needs to have signed releases from the people or owners of the property in those images. These releases are known as property and model releases.
This post dive deeper into these usage types: Commercial or Editorial Stock Photos? What's the Difference?
Model and Property Release
A model release is a legal document that gives the photographer permission to use and sell images of identifiable people in their work.
It's important to have these releases as they protect both the photographer and the buyer from potential legal issues.
Without a model release, the buyer may be held liable for using an image without proper consent from the person featured in it.
Similarly, a property release is required for images that contain recognizable private property, such as buildings, landmarks, or objects.
This gives the photographer permission to use and sell images of these properties without infringing on any legal rights.
Microstock & Macrostock?
When it comes to selling stock photos, there are two main categories: microstock and macrostock.
Microstock is a modern low-priced, but high-volume stock photography model. These agencies only offer royalty-free licenses as subscription packages. For example with a 29€ monthly fee buyers can download 10 RF images each month. That makes only 2,9€ per image.
These agencies have a larger volume of images and cater more towards the general public rather than specialized buyers.
Macrostock is the traditional high-quality, high-priced, and exclusive stock photography model. This model is how images traditionally have been licensed. However, not many agencies operate entirely by this model anymore, and seems like it's fading away entirely while new less expensive, and more flexible microstock models are taking over the market.
Read my post about Microstock for more info: What is Microstock Photography?
Where To Sell Stock Photos?
There are countless websites and agencies where you can sell stock photos online.
However, it is important to choose a site where you can actually make some money because that's the whole purpose of this right?
Some of the best options include Shutterstock, iStock, Adobe Stock, and Wirestock.
There are countless others but believe me, you want to start with these as they've proven to make money.
Let's take a closer look at these options.
Shutterstock
Shutterstock is a microstock agency founded in 2003. It is one of the best platforms for selling photos online.
They accept editorial and commercial photos, as well as videos, vectors, illustrations, and music.
It's an excellent site to start selling your images, with a high sales volume that helps you quickly identify the best-selling images.
The royalties are typical microstock size, starting from $0.10 or more per image based on the buyer's subscription pack.
Occasional enhanced or single license sales can provide a nice extra boost to your Shutterstock earnings, usually ranging between $20 and $60 per image.
The uploading system is excellent. You can easily upload multiple images at once and edit keywords using the keyword suggestion tool.
When you upload images, the EXIF/IPTC data is also uploaded, so if you've already added keywords and captions in your editing software, there's no need to add them again.
Shutterstock also provides a convenient app for contributors to track their sales in real-time and upload more images. It even allows you to upload your mobile phone photos as they are accepted too.
Here's my Shutterstock post: How To Make Money On Shutterstock?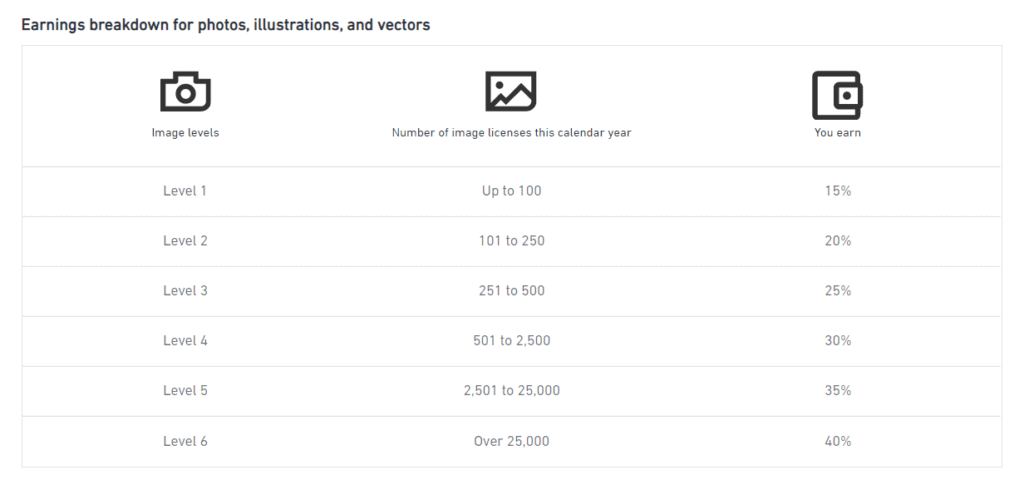 Adobe Stock
Adobe Stock is a good microstock site to earn money with photography. You can submit photos, videos, illustrations, and vectors.
The royalty rate for images is 33%, which typically translates to $0.33 – $3.30 per image, depending on the buyer's subscription package.
Extended licenses can pay around $26.40 / $21.12 per downloaded image depending on if it was on-demand or subscription download. The earnings with AS are generally good due to the high sales volume.
However, Adobe Stock's uploading system can be a bit laborious. You need to arrange the most important keywords on top, which slows down the uploading process. Doing this well will improve the visibility of your images in search results and increase your chances of selling them.
If you have already added keywords in your editing software, there's no need to add them again as the EXIF/IPTC information is uploaded with the image.
While Adobe Stock has a nice sales tracking system on their desktop site, they currently lack a mobile app.
They also showcase best-selling portfolios each week, which provides valuable insights into the types of stock images that are in high demand.
Overall, Adobe Stock is a platform worth considering for photographers looking to sell their work.
Here's my full post on Adobe Stock: How to Sell Your Photos on Adobe Stock?
IStock
IStock is another popular microstock site where you can sell your photos online.
The royalty rate for images starts at 15% and can go up to 45%, depending on the exclusivity of your content. Exclusive contributors receive higher royalties, but they cannot sell their photos elsewhere.
The keywording system in iStock is different from others. They provide pre-defined keywords to increase the chances of your images being found in searches.
For instance, instead of just using "star" as a keyword, you should use "star – space" to be more specific and relevant to space-related content.
This approach avoids confusion with other meanings of "star" like a celebrity or athlete.
Although it requires extra work during image upload, iStock offers keyword suggestions to help.
iStock also has an app for contributors, making it easier to track sales and find briefs to participate.
In terms of selling stock photos, iStock is a reliable platform with a high sales volume and easy-to-use interface.
Here's more about IStock: Selling Stock Images on IStock – Is It Worth It?
Wirestock
Wirestock is a newer entry to the stock photography market, but it offers a unique approach to selling stock photos.
Instead of keywording and uploading your images to multiple platforms yourself, Wirestock allows you to submit your images once on their platform and then they keyword and distribute your content across different microstock sites.
This saves time and effort for photographers who may have hundreds or thousands of images to sell.
Wirestock has partnered with popular sites like Adobe Stock, Shutterstock, and iStock to ensure a wide distribution reach for your photos.
Wirestock takes 15% of each sale and also you need to subscribe to their membership plans, but the keywording and distribution services they provide can greatly benefit your sales.
Overall, Wirestock is a great option for creators looking to streamline their stock photography sales process.
Read the full review and find a discount code for Wirestock in this post: Wirestock Review – All-In-One Site to Sell Stock Media
Others
I have first-hand experience with the agencies mentioned above.
I also have some images on Dreamstime, but I'm unsure if it's worth the effort.
It's a low-paying microstock site with a royalty rate of approximately 30% with very low sales volume.
This combination doesn't make it a great platform for selling photos. While I've had a few sales with them, it's not enough to convince me to continue contributing.
Getty Images is one of the biggest and most well-known agencies.
However, they only accept exclusive images, which is why I'm not interested in contributing directly to them. I
It's also not easy to become a contributor for them as they only accept top photographers.
Alamy is a similar agency to Getty Images, but they also accept non-exclusive images.
They have a higher royalty rate compared to many microstock sites, 20%, 40%, or 50% depending on your level and exclusivity.
Their sales volume is quite low, but the sales amount is often relatively high, making it worth considering as a contributor.
These are the main agencies, although there are many others. These are the most well-known and undoubtedly the best-selling stock sites in the market.
Feel free to experiment with different sites as images may sell better or worse for you depending on your content.
This post covers more about the stock media sites: Side-by-Side Comparison of The Most Popular Sites To Sell Stock Photos
Can You Sell AI-Generated Images On Stock Media Sites?
Recently AI-generated images have taken over the online world. Many AI creators are now wondering how they can monetize this new technology.
Many stock media sites such as Shutterstock and IStock do not accept AI-generated images as there are still many open legal questions about generative AI.
However, current laws don't restrict selling content created by AI, and that's why some stock media sites are starting to accept these images. The biggest stock media site accepting AI-generated images is Adobe Stock.
If you're interested in selling AI-generated images on stock media sites, it's important to understand the terms and conditions of each platform.
Some may have restrictions or guidelines specifically for this type of content. It's also important to ensure that your AI-generated images do not infringe on any copyrights or trademarks.
Here are few of those stock media sites that accept AI-generated images:
Wirestock
Adobe Stock
Dreamstime
123RF
Vecteezy
Read more detailed post here: Where You Can Sell AI-Generated Stock Images?
What Kind Of Stock Images Sell Best?
When it comes to best-selling stock images, certain themes have a track record of consistently selling well.
Images that visually convey positivity and optimism like happy families, success and achievement, or healthcare and wellness, are always in high demand.
Travel and lifestyle photos featuring scenic landscapes, beaches, and urban cityscapes remain a staple for editorial and commercial use.
In recent years, there has been a surge in demand for images of diverse demographics, representing age, race, gender, and lifestyle choices.
Lifestyle, food, and fitness trends also hold a strong influence over the types of images that will be popular with stock photo buyers.
As a contributor, it is imperative to keep up with current trends and to understand the needs of the market in order to increase profitability and success in stock photo sales.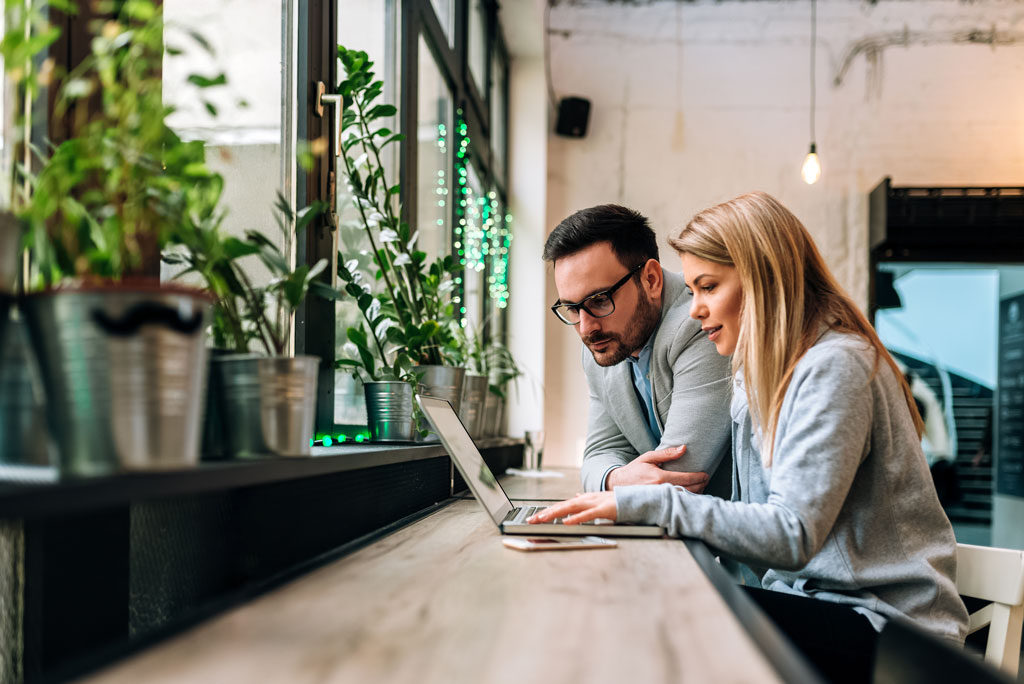 How Much Money Can You Make Selling Stock Photos?
As with any type of business, the potential earnings from selling stock photos can vary greatly. It ultimately depends on the quality and demand for your images, as well as the platforms you choose to sell on.
Some photographers are able to make a full-time income solely from selling their stock photos, while others may only make a few hundred dollars per year. It all comes down to your individual success and the amount of effort you put into it.
In a recent poll in the Microstockgroup forum, 53 percent of respondents stated that they earn over $500 per month from selling stock photos. However, there were also over 18% of photographers who reported earning over $2,000 per month.
Overall, it's safe to say that there is potential to make decent money from selling stock photos online. It may not be enough to replace your day job, but it can certainly be a profitable side hustle or additional source of income.
You can find my stock photography earnings reports here: https://jamoimages.com/category/stock-photography/stock-photography-income/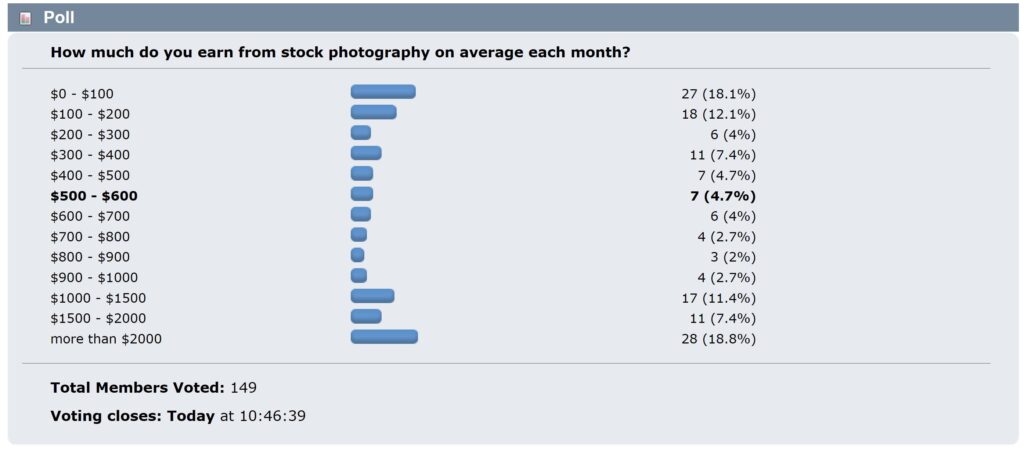 How To Sell Stock Photos Successfully?
While it's easy to start selling stock photography, it takes a little more effort to become successful at it. Here are some tips for selling stock photos successfully.
Make Quality Mixed With Quantity
To maximize your visibility and potential for sales, you need to upload a ton of photos. The more you put out there, the higher the odds of buyers stumbling upon your work.
But don't let the quantity compromise the quality. Remember, once buyers find you, you've got to make it worth their while.
This means that those photos you're uploading need to be high-quality and in demand. They've got to stand out in a sea of options and make the buyer think, "Yes, this is the one".
So, focus on producing high-quality images that command attention and evoke emotion, while also ensuring you have a large portfolio showcasing your work.
Striking the right balance between quality and quantity can be your game-changer in selling stock photos.
Understand Market Demand
Staying current with market demand in the realm of stock photography is critical for your success.
Remember, it's not just about what you want to photograph, it's about what customers are looking for.
This could be influenced by current events, trends in design and advertising, popular themes, and seasonal changes.
For instance, during the pandemic, there was a spike in demand for images highlighting remote work, social distancing, and healthcare.
Let's not forget about seasonal images too – photos of spring flowers, summer beach scenes, fall foliage, or winter snowscapes will always be in demand at different times of the year.
So, keep your finger on the pulse of what's happening in the world and let that guide what you capture.
This way, you'll ensure that your photos are relevant and in demand, leading to potential increases in sales.
Use Relevant Keywords & Captions
Having a solid keywording strategy is super important in the world of stock photography.
You could have a million stock images online, but without keywords and captions, they're basically invisible. This is because buyers usually rely on keywords to find specific images.
Captions, on the other hand, are usually searchable via Google and other search engines.
So, if you're not using effective and relevant keywords and descriptive captions, chances are your photos will go unnoticed, no matter how awesome they are.
This can be the difference between your images getting buried or being snatched up by eager buyers.
Keep Up With Trends
The world is constantly changing, and so are the needs and wants of buyers. As a stock producer, it's important to keep up with trends and make images that reflect current events, popular topics, and social issues.
This can increase the visibility and potential sales of your photos.
For example, with the rise of social media influencers, there has been a surge in demand for images featuring diverse models engaging in everyday activities.
So, keep an eye out for what's popular on social media, news outlets, and other platforms to stay ahead of the game.
Utilize Multiple Platforms
Don't limit yourself to just one platform when selling stock photos.
There are numerous online marketplaces and agencies that specialize in buying and selling stock images.
Some may have different target audiences or specific themes, so it's important to do your research and find the best fit for your images.
Diversify your portfolio
Don't put all your eggs in one basket. It's crucial to diversify your portfolio and capture a variety of images.
This includes different genres, styles, and subjects. A diverse portfolio can attract a wider audience and increase your chances of making sales.
Plus, it keeps things interesting for you as a photographer. You can also experiment with new techniques and expand your skills by diversifying your portfolio.
Be Patient And Persistent
Selling stock photos is not a get-rich-quick scheme. It takes time, dedication, and persistence to build a successful portfolio in stock photography.
You may face slow sales at first, but don't get discouraged. Keep uploading high-quality in-demand images and eventually, your hard work will pay off.
Conclusion
Making money with stock photography and selling photos online is such a huge topic that it's impossible to cover completely in one blog post.
It basically covers all areas of photography, and you could easily write several books about it. It's complex, and challenging, and yet, it can be a lot of fun too.
This post has just scratched the surface, but I've tried to aim it for those of you who are starting your stock photography journey.
I hope I've helped you get even one step closer to understanding it better. But remember, you need to keep learning, studying the market, and building your portfolio.
The real challenge is figuring out what kind of photos actually sell. It's not just about making pretty images. It's about creating images that fit well in advertising brochures, news articles, and more.
I wish there was a simple formula for selling photos successfully, but there just isn't. With passion and hard work, you can find your way.
Thanks for reading and good luck!
FAQ
How Many Images Should You Have To Make Consistent Sales?
The short answer to this is to have as many images as possible and as high quality as possible.
You can make a very good monthly income if you're willing to work hard on it.
Having over 1000 high-quality and in-demand images in your portfolio should already generate at least $100 in a month.
Why I Don't Get Any Sales?
First of all, you need to be patient and keep on building your portfolio. You may start having sales immediately or it may take some time before any sales.
I see too many questions from new contributors as to why they don't get sales after a month since they started and with under 100 images in their portfolio.
This is a marathon, not a sprint. You need to have persistence and most importantly you have to be consistent.
So take your time, keep on submitting images, and learn what sells and how to become a better stock photographer.
Can You Sell Stock Photos on Multiple Sites?
Yes, you can sell your stock photos on multiple sites. In fact, it is highly recommended to do so in order to maximize your earnings potential.
Each stock photography platform has its own unique audience and customer base, so by selling your photos on different sites, you are reaching a wider market and increasing the chances of making sales.
Can I Sell Photos Taken With My Phone On Stock Photography Websites?
Absolutely, you can definitely sell photos taken with your phone on stock photography websites.
For example, Shutterstock offers a mobile app that you can use to upload and keyword your photos on the platform.
However, it's important to remember that you're stepping into an arena alongside professional photographers armed with high-end equipment. To stand out amidst the competition, your images truly need to be something special.
Is Selling Stock Photos Profitable?
The short answer is yes, kinda… selling stock photos can be profitable. However, it requires hard work, dedication, and patience.
It's not a get-rich-quick scheme but rather a long-term investment in building your portfolio and learning the stock photo market as a whole.