Selling Stock Images on IStock – Is It Worth It?
Starting to sell stock photos on a new stock media site often feels like diving into uncharted waters. Questions arise such as can you make money with it and is it worth the effort?
In this blog post, I'm about to dive into one such platform – IStock. I'll tackle the question that many budding stock photographers grapple with: Is it worth it to start selling stock photography on IStock?
Drawing from my personal experiences, I'll provide a contributor's perspective on the platform, detailing my journey, and the pros and cons of selling content on this platform.
This post aims to equip you with the necessary knowledge to make an informed decision about whether or not to venture into selling stock images on IStock.
---
Related Posts:
---

Brief Overview of IStock
IStock is an online royalty-free stock media platform owned by Getty Images. It offers a wide variety of images, illustrations, and videos sourced from talented photographers, videographers, and digital artists from around the world.
The site boasts hundreds of millions of pieces of content available for licenses ranging from editorial to commercial projects. Its library has grown so vast that it has earned the status of being one of the top 3 stock media websites globally.
IStock also has a comprehensive Contributor Program. This allows photographers, videographers, and other artists to submit their creations through IStock's submission process. Once approved, these contributors can then earn royalties from downloads and licenses purchased for their work.
My Experience Selling Stock Images on iStock
When I first started considering selling my stock images on iStock, I was hesitant because of the low royalties and the platform's not-so-great reputation among contributors. However, despite these concerns, I decided to give it a shot, and here's what I found.
Yes, the royalties are indeed low when compared with other platforms. This was a major concern for me initially.
However, I noticed that the volume of sales on iStock was significantly higher than on other platforms. So, even though each sale didn't bring in a lot of revenue, the number of sales made up for it.
The first year of selling on iStock was pretty slow for me. However, I kept uploading because it's quite normal for the first year to be slow when selling stock images. That's why many contributors give up – they expect immediate results.
The second year was much better and I started seeing results that I'm happy with. (Read the next chapter to find out more)
One area where I felt iStock really fell short was with video sales. Some of my videos sold for only a few cents, which was quite disappointing. Because of this, I decided not to sell my videos on iStock.
Overall, my experience with iStock has been a mixed bag. While the platform does have its drawbacks, such as low royalties and poor video sales, the high volume of image sales has made it a worthwhile venture for me.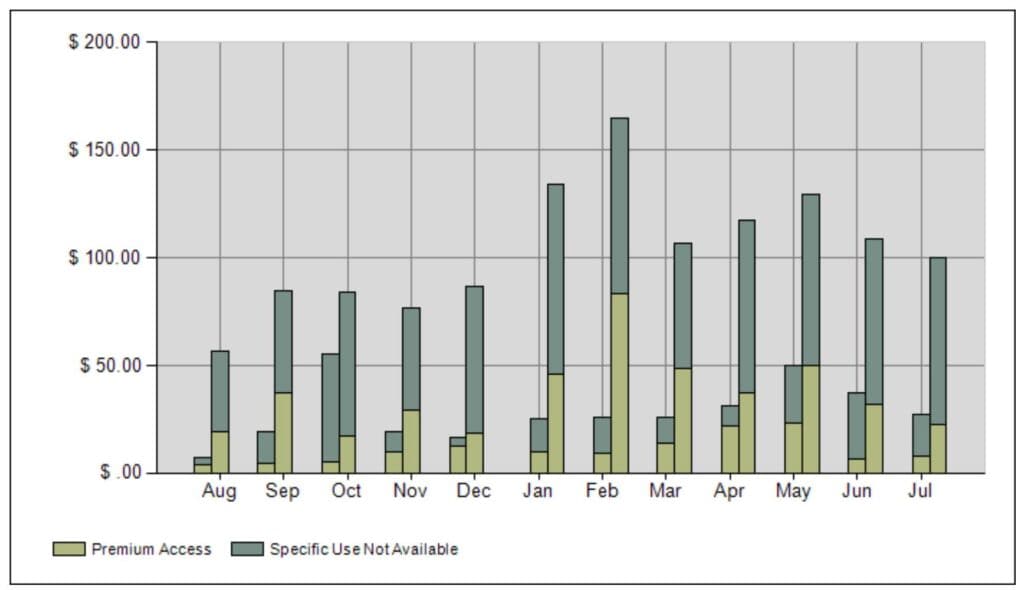 How Much Money Can You Make on IStock?
The amount of money you can make selling stock images on IStock will depend largely on the quality of your content and your engagement with the platform.
If you are able to consistently submit high-quality content, then it is possible to generate steady income from your work in a couple of years.
How much you earn also depends on the type of license purchased for your photos and videos.
Contributors on IStock receive a base rate per download, which can range from 15% – 45% depending on your contributor level.
Non-exclusive contributors always get 15% from photos and 20% from videos and illustrations.
Exclusive contributors 25% – 45% based on their level which again is based on lifetime downloads.
As a non-exclusive contributor, I have consistently earned over $100 per month since January 2023. This achievement is particularly noteworthy considering that I only have 600 images on my portfolio and that I began my journey with I Stock in January 2021. So, It took me only two years to reach the milestone of earning $100 per month with IStock.
Based on my experience, I'd say IStock is definitely one of the top platforms to sell your images. The sales volume is really high, actually one of the highest among all stock media sites. So, you can definitely make a good income from selling your photos and videos on IStock.
Should You Consider Selling Exclusive on IStock?
When you first start selling content on iStock, it may be tempting to go exclusive with the site. This means that all of your work will only be available through iStock and nowhere else.
There are several advantages to this, including a higher royalty rate for your sales, increased visibility in the platform, and an easier submission process as you only have one site to submit your content.
However, there are also some major drawbacks to consider. Going exclusively with iStock means that you will miss some good money from other high-volume sites such as Adobe Stock and Shutterstock. Also putting all your eggs in one basket can be risky if the platform changes its policies or something happens to your account.
Ultimately, you will need to decide what's best for you. If you believe that you can make more money with iStock by going exclusive, then that may be the right choice for you. Otherwise, it may be better to diversify and take advantage of multiple sites at once.
Whatever decision you make about going exclusive with iStock or not should be based on careful consideration of all the pros and cons. Take your time to understand the platform and do what is best for you and your situation.
Can You Sell AI-Generated Images on IStock?
With the recent AI-generated image boom, a lot of people are looking for platforms to sell those images. So, you might be wondering if you can sell AI-generated images on IStock.
Unfortunately no, IStock does not accept AI-generated images. The IStock Contributor Program only accepts original human-made content from its contributors. This means that all the content you submit must be your own work and not generated by an AI.
The reason for this is possible copyright infringement as the Generative AI normally learns a builds the image based on images that already exist on the internet. The laws are yet to be clear on this, but IStock wants to avoid any copyright issues by not accepting AI-generated images.
While IStock refuses to take AI-generated images, many others do take them. Read this post to find out who: Where You Can Sell AI-Generated Stock Images?
Tips for Selling Stock Photos on IStock
When it comes to selling stock photos on iStock, there are a few tips that can help you increase your chances of success.
First and foremost, focus on quality over quantity. Buyers are often searching for unique and visually striking images, so take the time to craft and curate your portfolio to ensure your photos stand out.
Secondly, keywording and SEO are crucial factors in making your photos discoverable. Be sure to accurately tag your images with descriptive keywords and captions that relate to the subject matter, as this will increase the likelihood that buyers can find and purchase your work.
Finally, it's important to maintain consistency in your portfolio over time. This involves continuously developing and adding new images to your collection, as well as staying up-to-date on popular trends and techniques in stock photography.
By following these tips, you can optimize your chances of success and establish a profitable career in stock photography on iStock.
Summary of Pros and Cons of Selling Stock Media on IStock
Here is a summary of the pros and cons of selling stock media on IStock
Pros:
Very High Sales Volume: IStock offers an excellent opportunity to generate passive income due to the large customer base that downloads millions of images daily basis.
Possibility for Exclusivity:  By selling exclusive content on IStock, you can generate higher profits from your sales than you would if you sold non-exclusive images.
Good Statistics and Asset Managing App: With the free app Deepmeta you can easily track your sales and manage your assets.
Cons:
Low Royalty Rate for Non-Exclusive Contributors:  IStock pays only 15% to non-exclusive contributors, making it less profitable for those who choose to not sell exclusive images.
AI-Generated Images are Not Accepted: AI content is not allowed on IStock due to the risk of copyright infringement and other legal issues.
Own Keywording System: IStock's keywording system can be frustrating since you must use specific keywords for your content. You'll need to update your existing keywords to align with IStock's system. For instance, rather than using "star," IStock requires "star – space" etc.
Very Small Royalty from Video Content: Sometimes, Istock pays only cents for video content making the platform not ideal for video content creators.
Conclusion
In conclusion, to succeed in selling stock images on iStock depends on your personal commitment, consistency, and ability to produce in-demand content.
For me, IStock quickly rose to become my third best-selling platform within a span of just two years, despite having uploaded only 600 images during that time.
If you're willing to put in the time and effort to create compelling images that meet the buyer's needs, then yes, iStock can be a worthwhile endeavor.
It offers a great opportunity to monetize your creativity, as long as you're ready to handle the challenges and demands of the stock photography market.
Just remember that success won't happen overnight, but with perseverance, the rewards can be pretty awesome.