The 3 Best Websites to Sell Stock Photos And A Bonus
If you're a photographer, chances are you've considered selling your photos as stock images. And why wouldn't you? It's a great side hustle to make some "passive income" while doing something you love and cover your photography expenses.
But where should you sell your stock photos? There are a lot of websites out there that claim to be the best, but it can be hard to know which ones are worth your time.
Fortunately for you, I have been contributing stock photos for several years and know exactly the best websites to sell them. These sites have different pros and cons, so it's important to understand what each offers before making a decision.
In this blog post, I'll break down the 3 best websites to sell stock photos and a bonus site, so you can start earning some extra income from your Images.
---
Related readings:
---
Shutterstock
If you're looking for a website with a large audience, Shutterstock is a great option. According to Ubessuggest, they boast over 200 million monthly visitors which means that the sales volume is very high.
It is one of the best-selling stock photography sites for contributors. They also have a very user-friendly interface, making it easy to upload and manage your photos.
As a Shutterstock contributor, you can earn 15-40% of the price that Shutterstock charges for licensing your content. You will progress through the 6 earnings levels based on how many downloads you have in each category.
However, your Levels will reset to 1 on January 1st of each year.
Shutterstock may be one of the top-selling sites for stock photos, but it's not perfect. For example, it can be tough for lesser-known photographers to get their work in front of buyers. Also, most sales only earn you $0.10 in licensing fees.
Even though there are some downsides to selling on Shutterstock, there are also upsides – like the occasional high sales between $20 and $120.
Read also this post for tips on selling content on Shutterstock: How To Make Money On Shutterstock?
Pros:
Very high sales volume
Big buyer base
Occasional big sales
Easy and fast uploading
Cons:
Most sales are only $0.10 / download
Contributor level reset each year
For new contributors, It can be a challenge to get noticed
No community and the relationship with the contributors all-time low
In the below image, you'll find how Shutterstock pays its contributors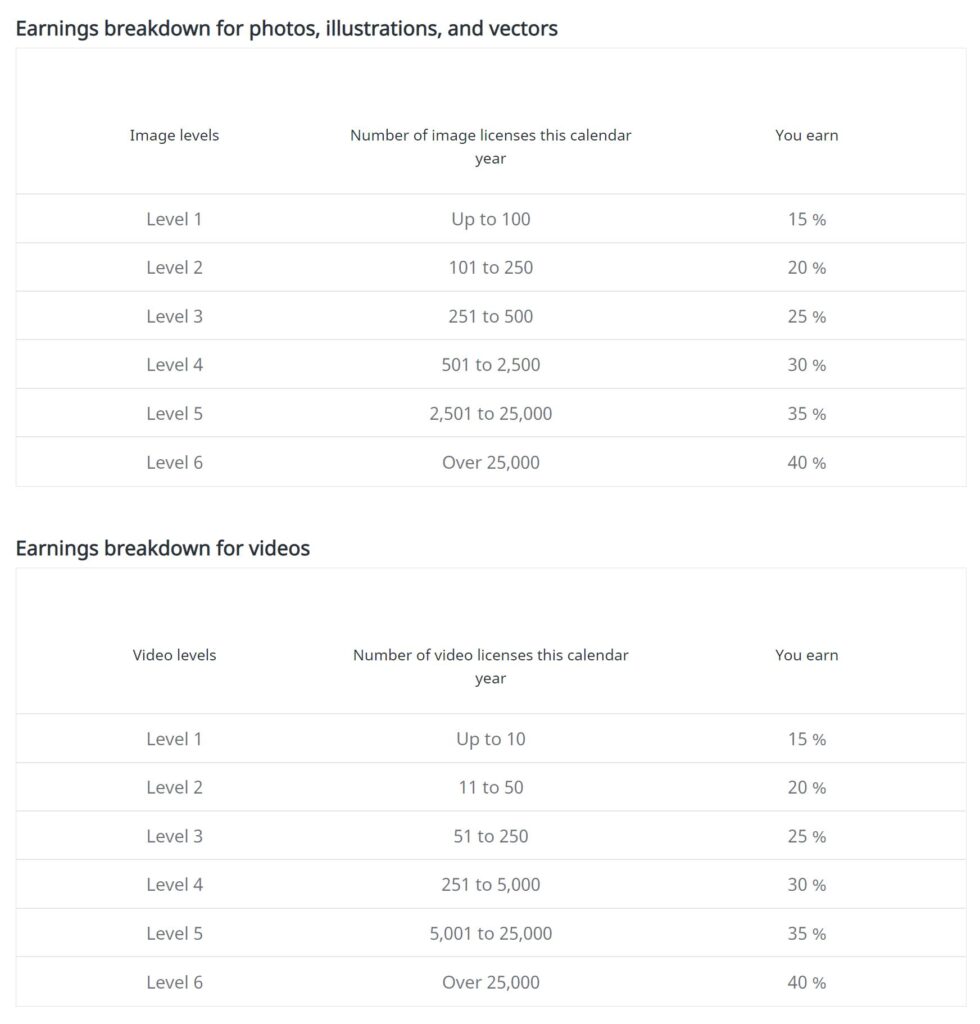 iStockPhoto
iStock is another major player in the stock photo world. IStock's website is one of the most popular stock photo sites on the internet, with over 130 million visitors each month.
They offer two contribution options for photographers—non-exclusive and exclusive—and pay out commissions ranging from 15-45%.
Non-exclusive contributors are those who allow their photos to be sold by other agencies but only receive a 15% commission. Exclusive contributors sell their photos through iStockPhoto exclusively and earn 20-45% commission based on their contributor level.
Commissions are determined by a few conditions, like the content type, license type, and membership plan that the customer picks. Therefore, the commission fee per download changes drastically.
IStock contributor commission fees have no minimum base, so some sales result in the contributors only making a few cents.
IStock's keywording system is different from other companies. They have their own keyword base, so you have to change your keywording to match that system. This makes the uploading of images a bit slow and complex.
However, free software called Deepmeta, created especially for IStock contributors is a tremendous aid in the process.
Read my review of IStock here: Selling Stock Images on IStock – Is It Worth It?
Pros:
High volume in sales
Big buyer base
One of the best-selling sites
Cons:
Lowest royalty rates of the Big Three
A bit complex keywording system
There is no minimum commission fee, so the royalty in some circumstances might be as little as a few cents
IStock royalty rates below
Adobe Stock
Adobe Stock is one of the best websites to sell stock photos. With over 50 million visitors per month, it's one of the largest stock photography websites out there. And with a 33% royalty rate for contributors, it offers a very attractive commission structure.
Even though the traffic is lower than on the other sites, the sales volume is still high, so there's good potential to earn decent revenue. And the community of contributors is quite strong, with active discussion forums and helpful instructions in Discord.
The client base for Adobe Stock tends to be graphic designers and other visual creatives who use lower-cost subscriptions. This means that contributors get better commissions because the price/download in these packages is much higher.
It's hard to find any real cons about Adobe Stock. The only minor downside is that uploading can be a bit slow, as you have to manually set the most important keywords for each image. But if you take the time to do this properly, it will pay off in terms of sales.
Another minor con is not being able to sell editorial content. However, Adobe Stock does accept illustrative editorial content.
Overall, Adobe Stock is an excellent option for selling your photos online.
Read my Guide to Selling Photos on Adobe Stock to find out expert tips on selling on Adobe Stock.
Pros:
High volume in sales
Big buyer base
Best royalty rates
Vibrant community and good instructions
Cons:
Submitting the images tends to be laborious
Doesn't accept editorial content
Adobe Stock stock royalty percents below
Wirestock
As a stock media producer, I know how time-consuming and frustrating it can be to keyword and distribute my stock images.
That's where Wirestock comes in as a game-changer. With its all-in-one platform, you can easily upload images and videos and let Wirestock do all the hard work.
All the content is keyworded and distributed to major stock media sites like Shutterstock, Adobe Stock, Pond5, IStock, and more.
As a result, you get more exposure and a higher chance of selling.
The $7.79 per month may seem pricey, but it's a small investment that will pay off in the long run.
Plus, with Wirestock's AI creative tools, you can sell AI-generated images on the platform quickly by using the website AI generator or directly from Discord.
Read my full review of Wirestock here: Wirestock Review – All-In-One Site to Sell Stock Media  (Includes a discount code!)
Pros:
Keywording and Distribution to the major stock media sites for you
Possibility to create and sell AI-generated Images
Very easy on quick submission process
Cons:
It's a paid service
 promised review time of less than 48 hours is often exceeded, resulting in longer waiting periods.
Other Sites To Sell Your Photos
The above are the best websites to sell stock photos, but there are many other options out there.
Some of the other popular sites include:
Alamy – UK-based Alamy is one of the largest stock photo agencies in the world, with over 300 million images in its collection. They offer a 20%-60% royalty rate to contributors based on exclusivity and level. The best thing about Alamy is the occasional very high single sales however, volume is very low.
Dreamstime – Dreamstime is a stock photo agency with over 195 million images in its collection. It's one of the oldest around but the sales are slow. They offer a 25-60% royalty rate to contributors depending on the sold license type, file level, and exclusivity.
123RF – 123RF is a stock photo agency with over 200 million images in its collection. They offer a 30%-60% royalty rate to contributors. I tried 123RF a few years back and I was very disappointed. Only a few sales overall.. so I eventually closed my account.
I have personal experience with each of these agencies. They do sell, but each is nowhere near the sales volume of the big three.
My recommendation is to start with the top three that I listed earlier. However, if you already have a large portfolio of images, these are definitely worth considering.
Conclusion
Each of "the big three" is an excellent choice for selling your photos online. However, each one has its own pros and cons that you should take into account.
Shutterstock is the best option if you're looking for high-volume sales and easy uploading. However, the payouts are quite low, and their attitude toward contributors shows a bit of arrogance.
IStock is a good choice if you're looking for high-volume sales and want to go exclusive. The keywording system can be complex, but there is helpful software available to make the process easier.
Adobe Stock is an excellent choice if you're looking for the best royalties and a strong community of fellow photographers. The only downside is that submitting photos can be slow.
As a bonus, Wirestock is best for those no time for keywording and distribution
There are a lot of websites out there that allow photographers to sell their photos. But with so many options out there, it can be hard to know which ones are worth your time.
Having sold stock images for years now, I can tell you from experience that these sites generate the most sales and are the ones you should consider starting with.
And always remember, "stock photography is not a sprint, it's a marathon!"
Thanks for reading!