Where To Buy AI-Generated Stock Images?
In the realm of digital content, AI-generated stock images are gaining significant traction.
These are not your conventional stock photos; they're images created by artificial intelligence algorithms, offering a unique blend of creativity and technology.
Available for purchase on platforms like Adobe Stock, Shutterstock, and Dreamstime, these AI-crafted visuals are redefining the boundaries of digital media.
But why buy them instead of using AI image generators? And what should you keep in mind when purchasing AI-generated stock images?
Let's explore these questions and discover the ever-evolving world of AI-generated stock imagery.
---
Related Reading:
---
What Are AI-Generated Stock Images?
In general, stock images are professionally captured photographs or illustrations that are available for license on various online stock media sites for creative use.
These images encompass a broad array of subjects, including landscapes, people and lifestyle, everyday scenes, abstract patterns, and more.
Instead of hiring a photographer or creating custom graphics, designers, marketers, and other professionals can browse large databases of pre-existing stock photos to find the perfect image for their needs.
AI-generated stock images are the next evolution in this field. They are created using advanced artificial intelligence online generators that can generate realistic, high-quality images from scratch or modify existing images in sophisticated ways.
These images can be tailored to specific requirements, such as color scheme, style, subject matter, and more, offering a level of customization that traditional stock images cannot match.
AI-generated stock images are an excellent option if you are in a hurry and need unique, attention-grabbing visuals for your project that will stand out from the crowd.
Where To Buy AI-Generated Stock Photos?
The landscape of AI-generated stock images is rapidly evolving, with several distinguished platforms leading the charge in providing top-quality images. However, there are only three stock media sites that I think are worth mentioning:
Each of these platforms is well-known and has its own unique offerings, ensuring that you can find AI-generated stock images that suit your needs.
Let's dive a bit deeper into what makes each of these stock media sites unique.
Adobe Stock
Adobe Stock is the best option for discovering top-notch AI-generated images.
The rationale behind this is straightforward: it is the most contributor-friendly stock media platform for the creators currently available.
Because of that, many of the best creators are motivated to invest their efforts into producing and uploading high-quality content on Adobe Stock.
As a contributor myself, I closely monitor different stock media sites in search of the best opportunities for my work. There is no doubt that Adobe Stock takes the lead when it comes to selling stock images.
This means that at the moment, you will discover the best and largest selection of AI-generated images on Adobe Stock, surpassing any other source on the web.
Adobe also offers its own AI image generator, Firefly, currently available for free use. However, please note that it is not permitted for commercial use at this time.
Adobe Stock's pricing is also competitive with the other major stock media sites.
Adobe Stock offers a range of subscription plans, starting from €29 and going up to €159. These plans are versatile, allowing you to download various content types such as images, videos, audio, templates, and more. Also, credit packs are available if you don't want to commit to monthly plans.
Find out more about pricing on the Adobe Stock website HERE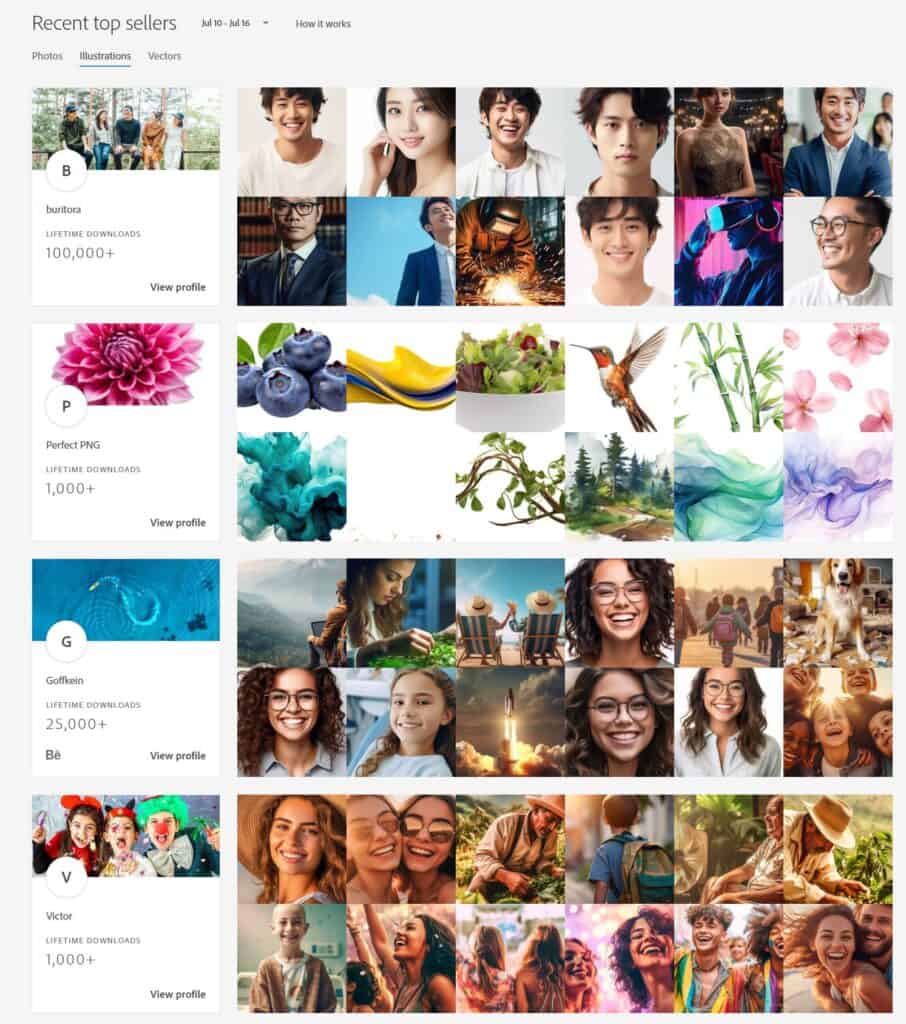 Shutterstock
Shutterstock has a different approach to selling AI-Generated images. They have their own AI-image generator in place and are allowing customers to generate their own AI images on demand.
However, Shutterstock does not offer such a large selection of pre-made images due to its policy of not allowing contributors to upload AI-generated images onto their platform.
One of the greatest advantages of Shutterstock AI is the freedom to generate unlimited images. And the best part? You only need to pay for the license of the image you want to use in your project.
You'll get a library of over 700 million non-AI images along with the AI-image generator.
Shutterstock has been the leading stock media agency for years and offers some of the most competitive prices on the market.
The subscription price for Shutterstock ranges from €29 to $159, depending on your chosen plan. Additionally, they provide on-demand plans as well as mixed plans that include both images and videos.
Discover additional information regarding the pricing details by clicking HERE.
Dreamstime
Dreamstime offers a vast collection of AI-generated stock images for buyers to choose from.
With the ability for contributors to upload their AI creations, the collection continues to grow with new and unique options.
However, it's worth noting that Dreamstime does not allow AI-generated images of people unlike Adobe Stock.
Despite this restriction, buyers still have access to a vast selection of AI-generated images encompassing a wide range of topics and themes. Additionally, the entire collection of over 200 million non-AI images is also available.
From captivating abstract designs to top-notch graphics, Dreamstime's AI-generated images offer myriad options for those seeking to purchase images for their creative projects.
Dreamstime offers the lowest pricing compared to other stock media sites.
Subscription options range from €25 to €180, with options to select credit packs and all-in-one packs.
More details on the Dreamstime website HERE
Benefits Of Buying AI-Generated Stock Images Vs. Using AI-Image Generators
While most AI-generated stock images available on stock media sites are produced using the same AI generators that anyone can use online, there are notable advantages to purchasing pre-generated stock images instead of creating them from scratch.
For starters, purchasing ready-made AI-generated stock images eliminates the need for so-called prompt engineering.
Prompt engineering is the process of manually writing the command and constructing parameters that will define the AI image's appearance and what it conveys, such as colors, shapes, or themes. This can be a complex and time-consuming job, which makes buying ready-made stock images a more efficient option.
Additionally, a subscription to a stock site offers a wide range of AI and non-AI images to choose from, offering wider possibilities than one AI image generator can provide. With access to a reputable stock media site, you can easily discover the image that aligns with your specific requirements.
Moreover, AI-generated images often display inaccurate human anatomy, especially in the portrayal of hands. A skilled AI artist is aware of these shortcomings and can repair them with a few simple adjustments before uploading the image to a stock site. Nevertheless, it is recommended to carefully examine the anatomical accuracy of people in the images, as these flaws often go unnoticed.
The only drawback of purchasing stock images instead of utilizing an AI image generator is the cost. For instance, with just $24 per month, you can have unlimited image generations on Midjourney, whereas with Shutterstock, you receive 10 images per month for $30.
However, while using the AI-image generator may be cheaper in the short term, it is important to consider the long-term cost. Purchasing stock images may be more expensive initially, but can save you time, money, and effort throughout a project.
Things To Keep In Mind Before Downloading AI-Generated Stock Images
As AI technology is still in its early stages, stock image buyers should be aware of a few things.
Before downloading AI-generated stock images, bear the following in mind:
The present technical quality of the AI-generated images is pretty poor. Initially, the images are created with a very low resolution, requiring upscaling in post-processing. When zoomed in, the details look messy, making them unsuitable for printing in larger formats.
The anatomical flaws of people are a common issue in many AI-generated images. Before downloading, it's important to examine any human figures, especially the hands in the images. These issues can often go unnoticed.
AI image generators may prioritize specific features or details in an image, leading to oversaturation or exaggeration of certain elements. This can make the image look unnatural or distorted.
Since AI-generated images are trained using existing images, it can be challenging to create and find AI-generated images depicting current events.
Differentiating between AI-generated and non-AI images can occasionally present a challenge, particularly when examining thumbnails. By leveraging the search tools, you can effortlessly discover the correct image. For instance, Adobe Stock allows you to filter specifically for AI images or exclude them from your search entirely. This empowers you to refine your results and find exactly what you want.
By keeping these issues in mind, you can ensure that the AI-generated images you download are high quality and suitable for your project.
Conclusion
In conclusion, AI-generated stock images are a game-changing aspect of visual media, offering a vast selection of unique and compelling visuals that can enhance any creative project.
While ready-made AI-generated images in stock media sites still may have some quality issues, such as low initial resolution and anatomical inaccuracies of people, the benefits – including the elimination of prompt engineering and access to a wide array of non-AI images – are undeniable.
Stock media sites like Adobe Stock, Shutterstock, and Dreamstime offer many AI-generated and non-AI images at competitive prices.
While the upfront cost might be higher than using an AI image generator, the convenience and time saved make it a worthwhile investment.
Ready-made AI-generated stock images are a great source of inspiration and innovation for creative professionals, from graphic designers to marketers.
With the right eye, you can use pre-generated images to craft stunning visuals that will resonate with your target audience.