Where You Can Sell AI-Generated Stock Images?
If you are an AI image creator who is looking to sell your AI-generated images, you may be wondering where you can do so.
To begin selling your AI-generated images, one of the simplest approaches is to become a contributor to a stock photography website.
These platforms typically offer the option to upload your images and list them for sale at no cost, allowing others to purchase them. It's an easy way to showcase your work and generate passive income.
Not all stock photo sites accept AI-generated images, but some provide a great chance to make money from your creations.
Let's take a closer look at some of the top stock photography sites where you can sell your AI-generated images.
---
Related Posts:
---
Overview of the Stock Photography Market
The biggest players in the stock photography market are Adobe Stock, Shutterstock, and IStock (Getty Images).
These companies are well known for their massive selection of images that come from professional photographers and other image creators worldwide. The sales volume on these sites is superior to any other platform.
However, Shutterstock and IStock don't accept AI-generated images, which leads to Adobe Stock being the only high-volume stock photography website that accepts AI-generated images.
Then there are some of the low-tier sites such as Dreamstime, 123RF, and Vecteezy that accept AI-generated images. However, the sales volume on these sites is low, which makes them slightly less attractive for selling stock images.
As a wildcard, uploading your AI images on Wirestock is one of the top choices for new contributors. Wirestock does all the keywording and distributing for you, making it easy to upload your images and start earning money right away.
However, the market is highly competitive, making the task of selling AI-generated images a challenging endeavor. There are literally millions of contributors trying to get a piece of the pie.
To succeed in the market, you need to create images that are in-demand and also stand out from the competition.
This means that you will need to invest some time in researching current trends, understanding potential buyers' needs, and creating unique AI-generated images.
Read my blog further to find out what makes the difference. You can start out from here: A Comprehensive Guide To How To Sell Stock Photos Online?
Wirestock
For an AI artist, Wirestock is the first choice for selling AI-generated images.
Wirestock actively encourages contributors to sell AI-generated images on its platform, making it an excellent starting point for creators in the field of AI art.
Here's how it works: Create your stunning AI-generated images, then upload them to Wirestock. The platform takes care of keywording and distribution across multiple stock photography platforms.
The result? A significant boost in reach and earnings potential for your AI-generated images with minimal effort!
You also have the opportunity to take part in daily challenges, with the chance to win cash prizes.
The level of royalties depends on the platform from which the image was downloaded. Wirestock takes a 15% cut from each download.
Whether you're a beginner or an established creator, Wirestock is the perfect site to simplify your process and maximize your earning potential.
Read more on my full review and get a discount code in this post: https://jamoimages.com/wirestock-review/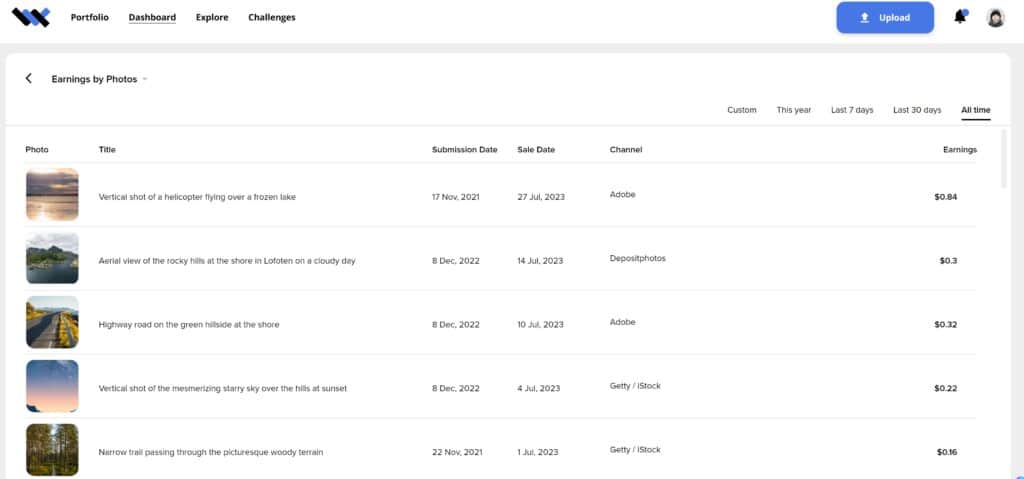 Adobe Stock
Selling AI-generated images on Adobe Stock is one of the best choices for creators looking to generate passive income.
With a commission rate of 30% per download, You can earn anywhere from $0.33 to $26.40 per download.
Recent data shows AI generated images on Adobe Stock are outperforming traditional stock images.
This speaks to the growing demand for unique visuals, as buyers seek to find content that stands out from the rest.
By selecting Adobe Stock as the platform to sell AI-generated images, you can benefit from its huge customer base and seamless integration into Adobe apps.
To ensure success, creators should follow the guidelines outlined by Adobe Stock and focus on producing high-quality, relevant content that resonates with buyers.
Also, read this post for more information on selling AI images on Adobe Stock: https://jamoimages.com/how-to-successfully-sell-ai-generated-images-on-adobe-stock/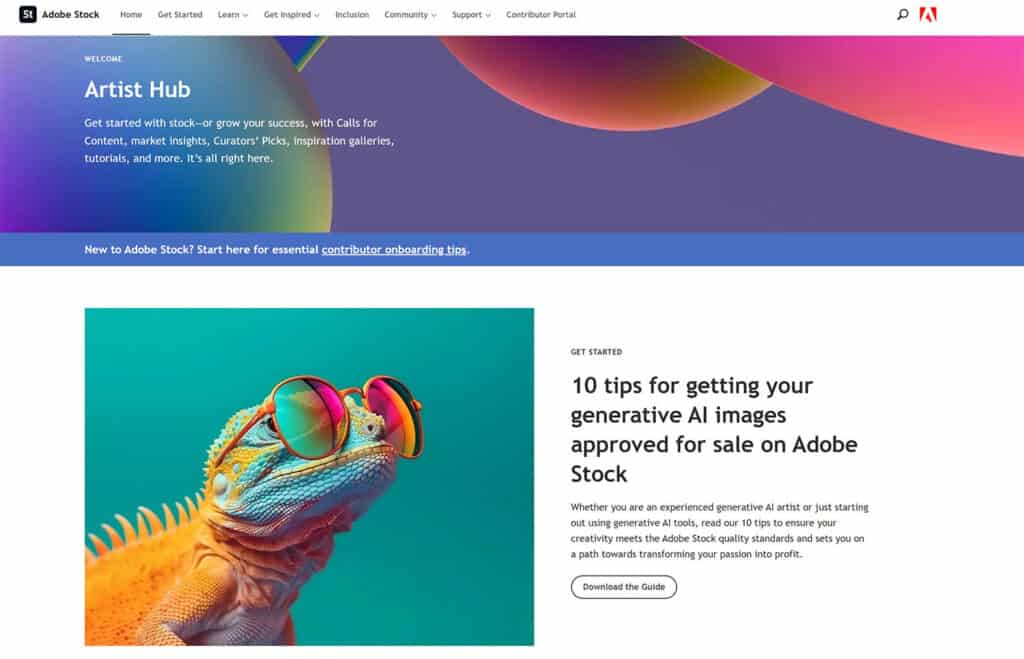 Dreamstime
Dreamstime presents itself as a potential option for those who wish to sell their AI-generated images through a stock site.
While it may be considered a low-tier site, it remains an established and renowned platform with over a million contributors worldwide. This naturally creates a competitive environment, but with 50 million+ buyers seeking quality content, the opportunity remains substantial.
Furthermore, the commission percentages of 30-50% (rising to 60% for exclusive contributors) provide a robust incentive for creators to contribute and profit accordingly.
While sales volume may tend to be slow, Dreamstime offers an accessible marketplace for creative professionals looking to add some extra income to their AI-generated images.
Read also my review of Dreamstime on this post: Comprehensive Dreamstime Review for Stock Media Contributors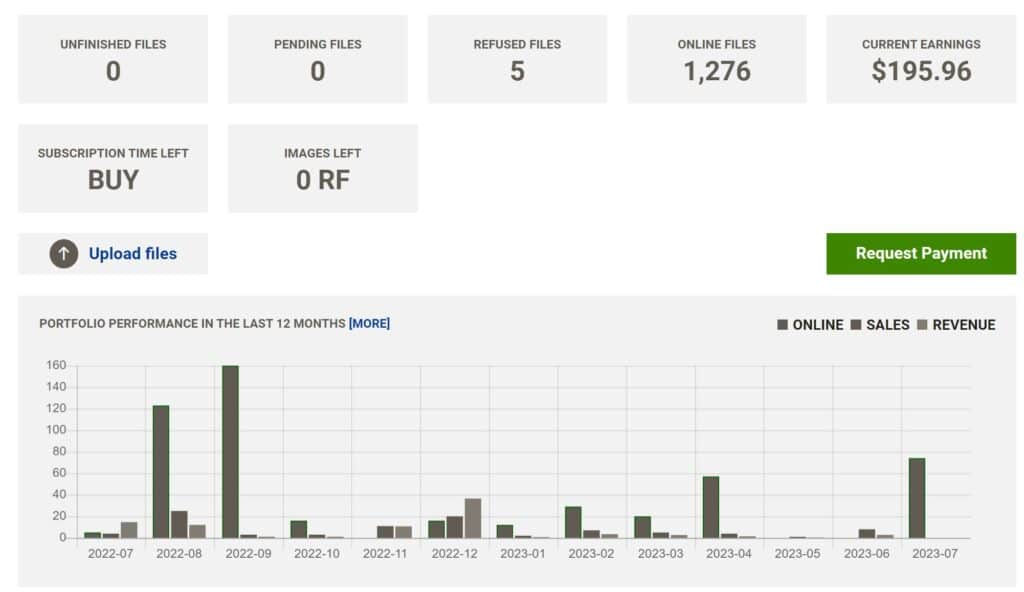 123RF
123RF is an additional option for selling AI-generated images.
With a community of over 300,000 contributors from all over the world, the platform offers a wide variety of visuals that can meet the demands of more than 5 million buyers.
Although it's considered a low-tier site, the platform promises commissions ranging from 30% to 60%, depending on your contributor level. However, it's important to note, sales volume tends to be slow.
Nonetheless, with the right approach and creativity, creators have the opportunity to capitalize on this platform and make a profit selling AI-generated images.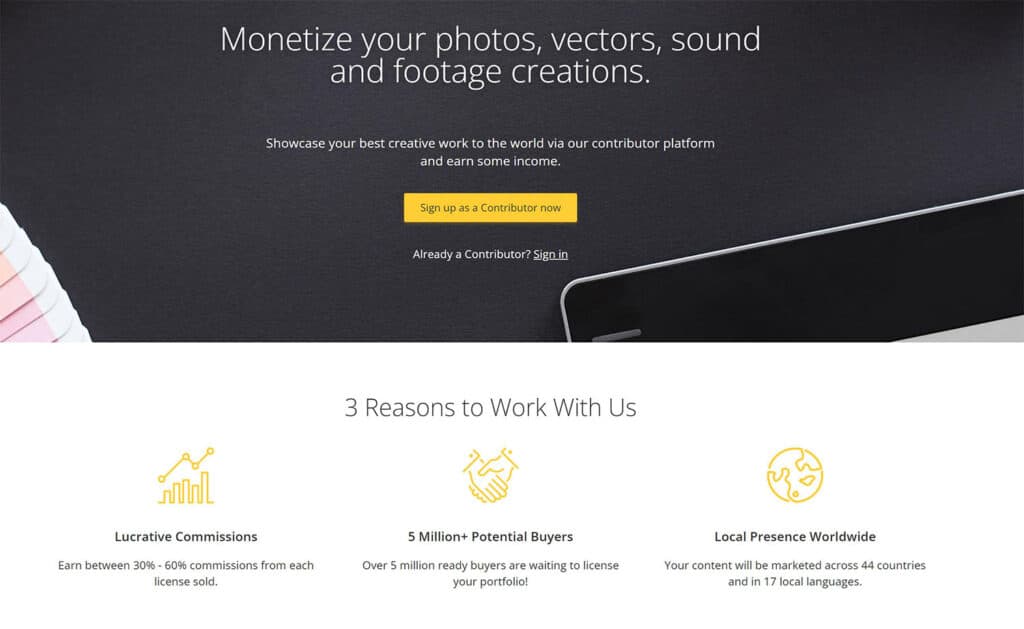 Vecteezy
Vecteezy provides a compelling option for selling AI-generated images at a lower tier, which is worth exploring.
While it may not have the same visibility as some of the larger stock sites, it does provide an opportunity to showcase your work to a new audience.
The commission split is fair, with a 50-50 share of the revenue. However, It's important to note that sales volumes is low on Vecteezy.
However, if you're just starting out or are looking for another outlet to sell your creations, Vecteezy could be a worthwhile option to explore.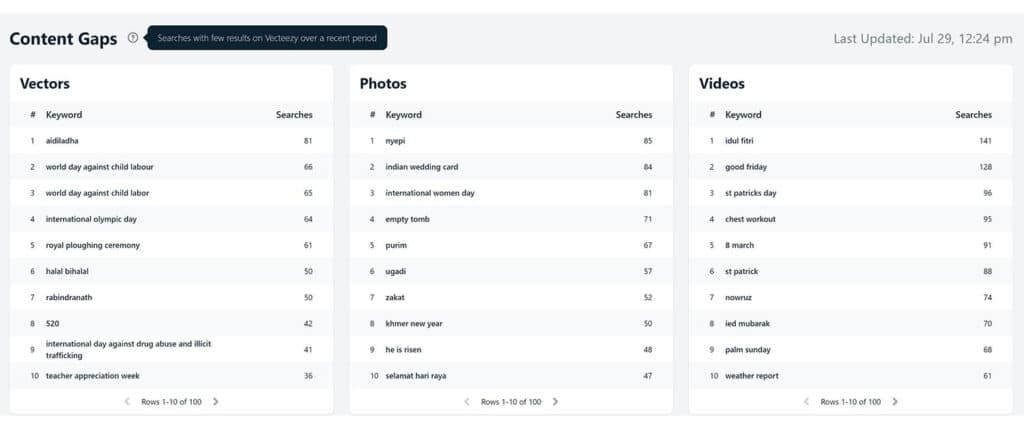 Freepik
Freepik is another option for those wishing to make money selling AI-generated images.
However, Freepik doesn't offer very competitive compensation for contributors who sell their content.
They have a revenue share program where contributors receive a portion of the total sales based on their downloads. The specific share percentage is 50%.
In my experience selling on Freepik through my Wirestock account, I have consistently earned $0.04 per download after Wirestock's 15% commission.
However, I have come across others who claim to earn an average of $0.25 – $0.50 per download.
Contributors also have the option to become exclusive, which offers a better percentage share.
However, this means restricting oneself from selling on other, potentially more profitable platforms.
Freepik could be a great platform for selling AI-generated images. However, it's important to note that building a huge portfolio of tens of thousands of images is necessary to generate meaningful income on this platform.
This process may take several years, but with determination, anything is possible.

Addictive Stock
Addictive Stock is an interesting addition to this list.
I recently discovered that they accept AI-generated images from an interview with the CEO on the Brutally Honest Microstock Blog.
Their website doesn't mention about this though.
As per Addictive Stock's website, they offer one of the highest commission rates in the industry, ranging from 50% to 70% per download for contributors.
However, they have a strict policy for accepting new contributors, requiring high-quality and in-demand content.
This can make it challenging to get accepted. Nonetheless, if you manage to get in, you can benefit from their generous commission rates.
Please note that I don't have firsthand experience with this site. So I recommend reading the CEO's interview here: https://brutallyhonestmicrostock.com/2023/10/10/interview-with-victor-torres-ceo-of-addictive-stock/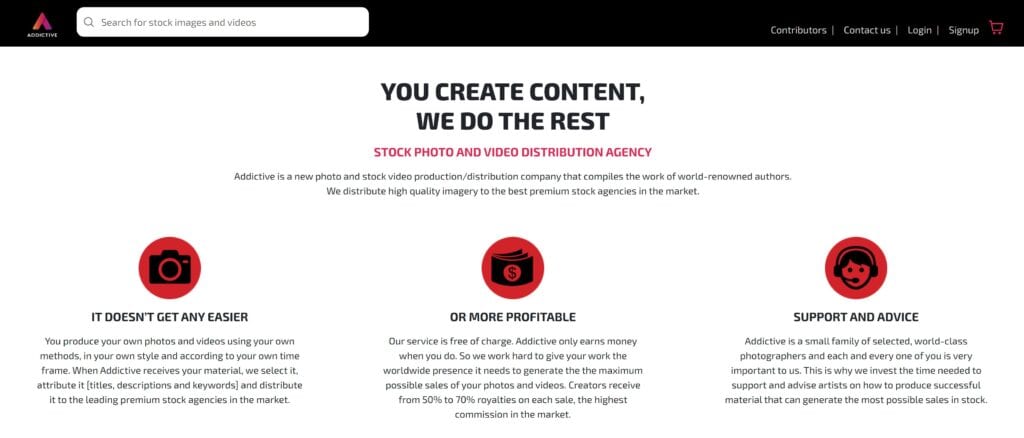 Conclusion
In conclusion, as a creator, you no longer have to limit your image production to traditional methods.
By using Generative AI, you can create extraordinary and unique images quickly that then can be sold on various stock photo platforms.
The platforms mentioned above are just a few places where you can sell your AI-generated images, but they are the best ones.
Do your research, study the submission guidelines, and keep creating something new and exciting in-demand content to boost your sales and revenue.