Wirestock Review – All-In-One Site to Sell Stock Media
For stock photographers and videographers, effective keywording and distribution of media across various stock photography platforms are crucial. However, the time-consuming nature of these tasks can be overwhelming.
That's where Wirestock comes in. Wirestock is an innovative stock photography platform that streamlines the submission process by handling all the keywording and uploading for you, allowing creators to focus on their passion for producing exceptional photos, illustrations, and footage.
But what is the most interesting part of Wirestock is what it is offering for those creating and selling AI-generated images.
In this review, we will closely examine the features of Wirestock and evaluate the associated benefits and risks.
---
Further reading:
---
What is Wirestock?
Wirestock is an all-in-one solution for stock producers to sell stock photos, illustrations, Videos, and AI-generated images. It eliminates the need for the contributor to keyword and upload images and videos one-by-one to each stock photography site.
With Wirestock, you can quickly and easily upload your images and videos to multiple stock media agencies. The platform will take care of all the keywording and captioning for you, so you can concentrate on what you enjoy most – creating amazing photos, illustrations, and videos.
Keywording is all done by humans, not machines or AI, so you can be assured that your photos and videos are accurately tagged for better search engine optimization.
Wirestock can help you increase your earning potential by allowing you to sell stock media to multiple agencies at once. This means that you can easily reach a wider audience, and earn more money.
Which Stock Photography Agencies Are Supported?
Wirestock supports all of the most popular stock photography platforms, including:
Shutterstock
Adobe Stock
Alamy
Getty Images
iStock
Dreamstime
Pond5
Depositphotos
123RF
Freepik
Envato
Imago Images
Wirestock also offers additional content licensing options via their Extra Channels and Instant Pay programs.
Instant Pay program means that you get a one-time fee for media licensed via this channel. This is optional and can be opted out.
What Are Easy Submissions?
In this post, I'll be referring a lot to easy submissions.
The process of captioning, keywording, and distribution performed by Wirestock for you is called Easy Submissions.
Using an easy submission option is what Wirestock is all about. It's a human-controlled process where the Wirestock staff will do all the heavy lifting for you.
This includes:
Captioning and keywording your images or videos
Submitting your stock media to multiple agencies at once
Ensuring that all of the submission requirements are met for each agency you submit to
However, if you have editorial media, you must fill out some extra information fields such as location and description.
So, the easy submission process is most valuable for submitting commercial images and videos.
Selling AI-Generated Images on Wirestock
Wirestock has made significant changes to its business model, clearly indicating a strong focus on generative AI. They are actively encouraging contributors to create and sell AI-generated images on their platform.
They've introduced their own discord AI bot, the Wirestock Bot, which uses Stable Diffusion tech to generate very high-quality AI-generated images.
The images that users create and upscale with Wirestock Bot get automatically uploaded to the Wirestock platform. From there, they can easily be submitted for sale via the easy submission service. Very easy, quick, and convenient.
The images created can also be easily submitted to daily challenges that have the potential to win you cash prizes.
To gain access to Wirestock's AI bot, you will need to subscribe to the Premium AI plan. However, if you already have a subscription to an AI image generator from another website, you can sell these images using the more affordable Premium plan. (More about the plans later in this post)
Here's a list of the main features Wirestock offers for AI Image creators:
Wirestock's Discord Bot: Create AI-generated images in Discord and upscale them. The images will be added directly to your Wirestock submission section, making the process fast and convenient.
Get 1000 generations with the premium AI plan: Previously, this was only 200. Now, you have an improved option to create high-quality AI images.
Standalone AI Image Generator: New addition to the Wirestock website. You can now make and sell AI images directly on the Wirestock platform without using Discord!
AI Reimagne: Upload any of your images and reimagine them using AI
Image Mixer: Mix 2 images together
Face Swap: Change the face of the people. Maybe add your own
Face on The Rock's body
Standalone upscale: Very high-quality upscaler on Wirestock website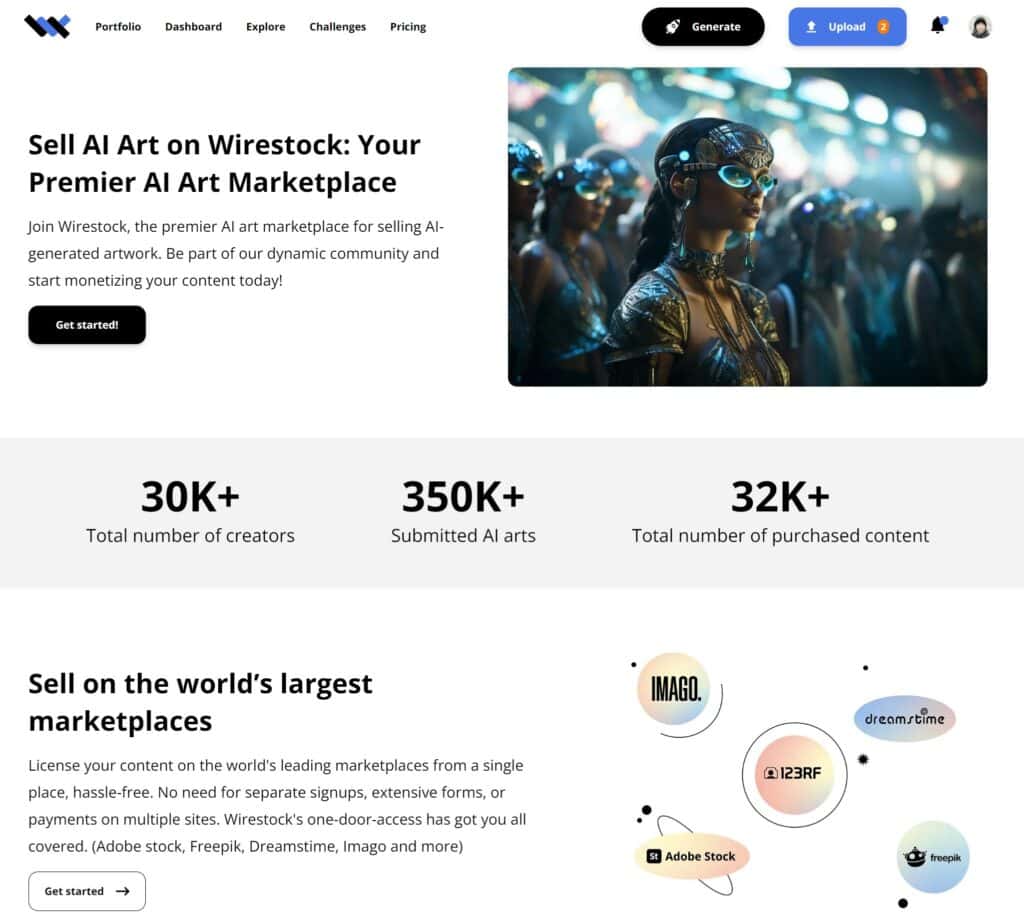 Win Money From The Wirestock Challenges
The challenges are a fun addition to Wirestock, offering subscribers the opportunity to participate in short-term competitions. What's even better is the chance to win cash prizes… Every day!
Especially challenges for AI-generated images are becoming increasingly common on Wirestock. So you don't need to be a top artist to win these competitions.
As long as you have an AI image generator to use and a Premium subscription with Wirestock, you can join these challenges and win awards.
There are challenges for photography as well but the vast majority is for AI-generated images.
Cash prizes have ranged from $50 to $1350 thus far. Photo challenges have been most lucrative with typically over $1000 prize pool. However, the daily challenge prizes normally range between $50 and $100.
The top three entries will be awarded, but sometimes an extra 3 runners-up have won some money too.
Furthermore, all participants may upload their images to the Wirestock marketplace for sale as well.

What Does Wirestock Cost?
Wirestock used to be free until the recent AI-generated image boom. So, they switched to a subscription-based model apparently because they couldn't keep up with reviewing, keywording, and distributing all the media being uploaded. Now you only get 5 easy submissions for free.
You still have a possibility to sell for free on the Wirestock platform without easy submissions, meaning no keywording or distribution to other stock media agencies. However, I personally don't see much value in that because in my experience sales volume in these kinds of small stock sites alone is almost non-existent.
If you want more easy submissions, you need to subscribe to one of Wirestock's premium plans. On top of the subscription plans, Wirestock takes 15% off each sale.
While it may initially seem unfavorable, it's important to note that images sold through Wirestock generally fall under the higher contributor tiers. As a result, you can expect to receive a better price for each sale.
There are currently two premium plans available: Premium and Premium AI.
The Premium plan is best suited for photographers, videographers, and illustrators who are not excited about keywording their content. Also, AI image creators who already have AI tools like DALL-E or Midjourney and aim to monetize the images they create may find this plan useful.
The Premium plan will give you the following benefits:
100 monthly marketplace and challenge submissions per month: With the Premium Plan, Wirestock will keyword, caption, and distribute up to 100 images per month. Theoretically, this means you can get 1200 images in a year which is quite enough to start getting regular income. And you can submit your content to the challenges as well.
200 image upscales per month: This means you'll get to upscale 200 images in the Wirestock Discord channel. This feature is useful If you have a low-resolution image that you need to upscale and don't have any other tool to use. This upscaler does actually a pretty good job but I'm not sure if it adds much value to the plan really.
Download files with metadata: You can download your keyworded and captioned images. This is useful for example if you want to upload your images to platforms not supported by wirestock.
100% royalties from direct portfolio sales: With the Premium plan, you'll receive 100% of the royalties from any direct sales made through your portfolio on Wirestock's platform
24/7 support: Pretty self-explanatory. You'll get support whenever needed.
You can subscribe for $7.79 per month when paid annually or $12.99 per month if paid monthly. And you can get an extra 20% discount by using my code: JAMO20
Be aware the prices may change as there are often discounts. You should always try to use my code to get an extra discount, even from the already discounted prices!
The Premium AI plan is, as it says, best suited for AI-image creators. You get the same benefits as in the premium plan with the following differences:
200 monthly marketplace and challenge submissions per month: With the Premium AI Plan, Wirestock will keyword, caption, and distribute a maximum of 200 images per month. So you can grow your portfolio twice as fast compared to the premium plan. Additionally, you'll have the opportunity to submit your created images to challenges and potentially win cash prizes.
1000 AI generations per month: This is an interesting aspect of this plan. Wirestock provides up to 1000 AI-generated images via their own Discord bot. The Wirestock bot is based on Stable Diffusion, which effectively generates high-quality AI images.
400 upscales per month: This adds much more value to the premium AI plan than to the normal premium plan. Why? Because AI images always need to be upscaled and this upscaler does it really well.
Access to all AI features: You'll get access to many fun AI features on the Wirestock platform including an AI image generator, Reimagine, Image Mixer, Face Swap and Upscaler
You can subscribe for $14.99 per month when paid annually or $19.99 per month if paid monthly. And you can get an extra 20% discount by using my code: JAMO20
Be aware the prices may change as there are often discounts. You should always try to use my code to get an extra discount, even from the already discounted prices!
Pros of Using Wirestock
Wirestock offers a range of benefits for those interested in selling their stock media. Here are some of the pros:
Time-Saving: Wirestock takes care of keywording and distribution, saving you considerable time and energy, and allowing you to focus on producing more content.
All Major Stock Media Sites Supported: Wirestock can distribute your assets to all the leading stock media sites, including IStock, Adobe Stock, and Shutterstock.
Higher Earnings: Due to their higher rate level on platforms like Shutterstock, earnings per sale through Wirestock can be higher than if you were selling through your own account (unless you're already at the highest contributor levels).
Keyworded Assets Download: The ability to download your keyworded assets is a great advantage if you want to upload your work to stock media platforms that Wirestock does not cover.
Cloud Storage: With the premium subscription, Wirestock also acts as a cloud storage provider for your stock media. This means you can access your files from anywhere at any time.
Monetary Prizes: Wirestock also offers the possibility to win money from challenges, providing additional motivation to use their service.
AI Image Generation: The Premium AI plan includes features like AI image generation, upscaling, reimagine, image mixer, face swap and direct submissions, offering easy and quick solution to selling AI-generated images
Fast Review: Wirestock promises to review all premium assets within 48 hours.
In my opinion, the absolutely best thing about using Wirestock is the time you save and the fact that you don't have to keyword and distribute your assets on your own.
Cons of Using Wirestock
Wirestock also has some potential drawbacks, including:
Keywording Not Always Very Good: Keywording may sometimes miss important keywords because the people doing the keywording don't always know your media specifics as well as you do. So it is important to make sure to fill the additional information field with as much info as possible.
All Eggs in One Basket: Selling content only via one site creates an "all eggs in one basket" problem. If Wirestock goes out of business, you may lose everything you've built.
Possible changes in Pricing: At the moment, Wirestock charges 15% per sale plus the subscription. But these rates can change over time, so it's important to know that you might have to pay more in the future.
Can't download Keyworded Images in Batches: While it is nice to be able to download your keyworded assets it should also be made easy. Now you can only download one file at a time. It's time-consuming to have to download each image individually, especially when there are several hundreds of them. So I'm hoping they will add batch downloading soon!
One of the major downsides, in my opinion, is that sometimes the keywording and captioning provided might not meet the same level of quality as if I were to do it myself. That's why filling in the additional information box is preferred, as it helps get better keywording and captioning.
Who Is Wirestock Best Suited For?
Wirestock is a versatile platform designed to make the process of selling stock images more accessible and efficient. It's an excellent tool for various user types including:
Novices in Stock Photography: For beginners in the stock photography world, Wirestock makes things easier. You don't have to worry about understanding the "science" of keywording and captioning because Wirestock takes care of that for you. The platform simplifies the often tedious process of keywording and submitting assets to different stock photography platforms.
Experienced Stock Photographers, Videographers, and Illustrators: Professionals who have a lot of extra material and are looking for ways to monetize it. Or maybe they just have no time or are not too excited about the whole keywording and distribution process. Wirestock is a great way to go if you want your images to be uploaded and distributed in multiple places quickly.
Creators of AI-Generated Images: In the age of artificial intelligence, creators of AI-generated images aren't left out. Wirestock offers a streamlined workflow for the creation and sale of these images, making it easier for these creators to monetize their unique content.
However, while Wirestock offers some nice benefits, I'd recommend contributors take a strategic approach to uploading. For this, I mean using Wirestock along with directly submitting to stock media platforms.
This way, contributors can enjoy the convenience and higher royalty rates that you get via Wirestock, while also diversifying their stock media portfolio and minimizing any risks involved.
How To Use Wirestock?
Wirestock is probably the easiest stock media platform to use. All you need to do is sign up for a Wirestock account and then upload the photos, illustrations, or videos you want to sell.
Once you've uploaded your media, Wirestock will take care of all the keywording and tagging for you if you have one of the premium plan subscriptions.
Just to be clear, I'll show here step-by-step how to use Wirestock
Signing Up to Become Wirestock Contributor
To become a Wirestock contributor, first, navigate to the Wirestock website and click on the 'Sign Up' button in the upper right corner to create an account.
Nothing fancy here. Just fill out the required information and accept the Contributor Agreement. After that, you can start uploading your photos, vectors, or videos to Wirestock.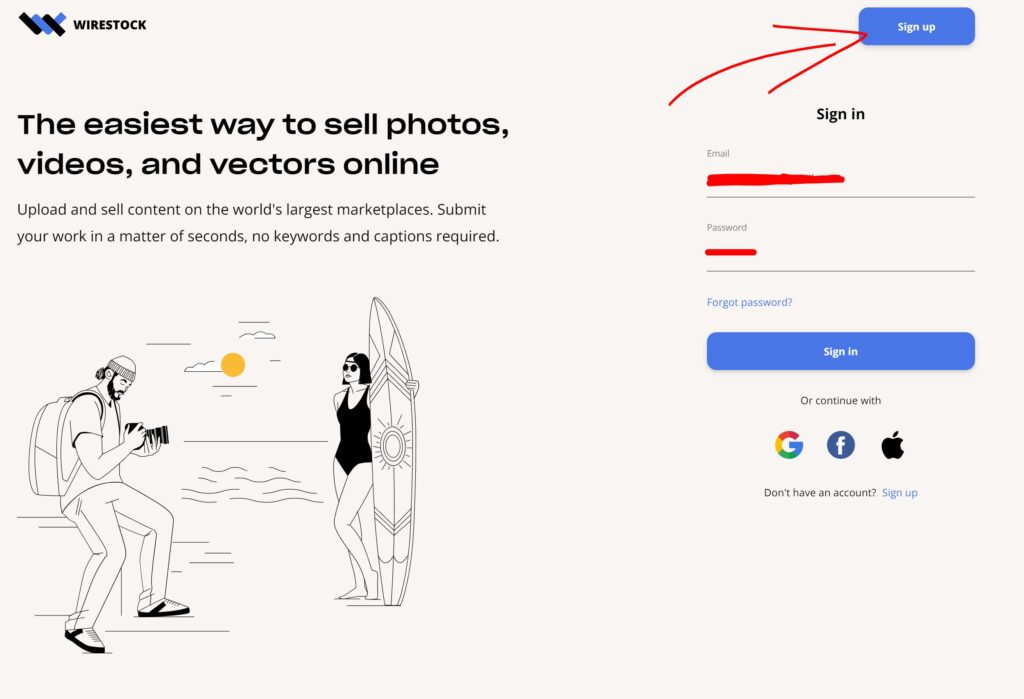 Uploading Stock Media
Once your account is set up, you can start uploading stock media to Wirestock. You can upload AI-generated images, photos, illustrations, vectors, and videos from your computer, or from your Google Drive or Dropbox accounts. Also, FTP upload is supported.
Fill and Submit Your Asset
Once you've selected and uploaded the asset you wish to sell, the next step is to fill out the necessary information in the following view.
The Easy Submission option is selected by default meaning Wirestock will do the keywording and distribution of your media.
It's recommended that you fill out the additional information field as well – adding things like the location of where the photo was taken – since this will make your media more discoverable. The keyworders don't know where the photo was taken so it's important you fill it yourself.
From here, you can select which stock photo agencies you'd like to sell your content on. You have the option to not upload to certain channels. You can also add a Model Release here if applicable.
If you're uploading AI-generated images you need to tick the appropriate box. More about submitting AI images later in this post.
If your content is editorial in nature, then select "Event / News / Brands" option and this view will open up.
For editorial submissions, you're required to include the country, city, date, and description of the media in question. Also, you can add additional information and choose the sites where you want to sell your media. If you're unsure what is editorial or commercial use, read this post.
You can also submit your asset without easy submission. This means you can add keywords, descriptions, and other information on your own just like on any other stock photography site.
This comes in handy when you already have metadata embedded in the photo or video, so there's no need to tag the assets anymore.
Finally, when you are done click 'Submit', and your stock media is sent for review.
The Dashboard
The Wirestock Dashboard summarizes your earnings and account activity altogether on one page.
The balance section shows your unpaid earnings
The earnings summary shows your earnings by the stock agency.
The earnings by asset section details all single-sales
The total earnings section shows your total earnings on a weekly or monthly basis.
The dashboard also allows you to quickly access the upload page, your portfolio, and to your assets pages.
How to Create And Sell AI-Generated Images Using Wirestock Bot?
Creating and selling AI-generated images with Wirestock is a pretty straightforward process. Here's how it goes:
Preparing Your Own Discord Server
Sign up for Discord and Join the Wirestock Channel
Create your own server by clicking the + icon on the left side of the screen. Then choose "Create my own" -> "For me and my friends" -> Add all specific information and you are done.
Add Wirestock Bot to your server by left-clicking the "Wirestock bot" from the user list on the right side of the screen in the Wirestock channel and clicking "Add to Server".
Go back to your own server, write /login, and hit enter
Copy and paste the discord token found in your Wirestock Account Settings
Now you are ready to start creating AI images with the Wirestock Bot. You can add other bots such as Midjourney bot in your server similarly.
Creating and Submitting AI-Generated Images
Write /imagine and hit enter
Write the prompt. For example: "trendy boy with colorful hair, portrait, paint splash in his face"
Wirestock bot will create 3 images. You can upscale the images you like the most by clicking the U1-U3 button below the images.
When you upscale the image, it becomes 2432×1664 in size. That's good enough for selling it on Wirestock. But personally, I'd prefer to upscale it one more time to get an image that's twice as large.
Get back to Wirestock. Ensure that the upscaled image has been added in the upload section. If not, simply click "Publish on Wirestock" below the image in Discord. (At this stage, you can also directly submit your image to challenges in Discord or in the Upload section on Wirestock.)
When you're submitting AI-generated images on sale you have to select the "This is AI-Generated Content" box.
Write the prompt used. This is usually filled automatically when using the Wirestock bot. Optionally you can also select the tool you have used.
If the AI-generated image includes people, you have to include a property release in the permissions section. However, when using the Wirestock AI bot, this process seems to be automated, which is a great improvement. Previously, you had to manually fill out the property release, which used to be a painfully slow process.
Select the Marketplaces where you want the image to be distributed and hit Post!
Thats it! You can also participate in the challenges if there's a suitable one for your images and maybe win some extra money or just post your AI-generated images and wait for them to start selling.
Discount Code
Wirestock offers a discount code for new subscribers. Simply enter the my promo code JAMO20 at checkout to receive 20% off your subscription! This code sometimes works with already discounted prices so always try it before paying full price.
Final Thoughts and Conclusion
When I first started using Wirestock towards the end of 2021, I wasn't completely sold on it. Although it was free to use and had a simple process for uploading assets, the review times seemed to drag on forever. Plus, the company itself appeared a bit uncertain, seeking new investors and all. So, I didn't want to go "all-in" and take too much risk with it.
However, In 2023, a bunch of things have changed. The not-so-great part is that now you need a subscription to submit images, and you can't upload as many assets as before.
Yet, the upside is that you can get your images reviewed and distributed way faster than before, and the spammers can no longer flood the platform with low-quality content.
Contributors who are ready to create unique, on-demand, and high-quality content instead of just chasing quantity are going to come out as winners. When it comes to selling stock media today, the key is to prioritize quality first and quantity second.
Also, Wirestock's focus has turned towards selling AI-generated images. They now have magnificent tools for creating and selling AI-generated stock images. I think this is a driving force behind the platform's future success.
Wirestock is best suited for AI image creators who are willing to make high-quality content and those who want to get their assets reviewed, keyworded, and distributed quickly without having to struggle with the tiresome keywording and distribution themselves.
But if you've already got a solid workflow for keywording and distribution, then Wirestock might not bring much more to the table for you.
Personally, I'll keep my Premium subscription and keep uploading more photos, videos, and AI-generated images through Wirestock. In my opinion, it really adds value to my workflow and can help increase future income.
I hope this review helps you make a decision about whether or not Wirestock is the right platform for your needs.
What do you think? Have you had any experience with Wirestock?
Let me know in the comments!
Thanks for reading!
Further Reading:
FAQ
Here's a list of some common questions about Wirestock.
Is Wirestock Legit?
Yes, Wirestock is a legitimate service. They have been around since 2018 and have helped thousands of stock media creators submit their assets to stock photography platforms. Also personally I've never had any problems with them. Payments are always on time.
Wirestock has offices in Armenia, the US, Europe, and Asia.
How Much Can You Make from Wirestock?
The amount of money you can make selling stock photos on Wirestock is based on the royalty rate, which varies among each stock photography platform. Generally speaking, you make 85% of all the sales that you make through Wirestock. This means that if you get $10 on any stock site sale, then you will get $8.50 out of it.
How To Get Paid?
Wirestock supports currently PayPal and Payoneer.
Will I lose the copyright to my media if I use Wirestock?
No, you will always keep your copyright.